Duck Cassoulet- Voila!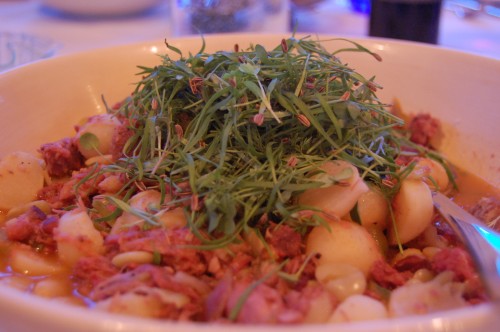 The traditional French main course is a luscious combination of beans and a variety of meat; you can find lamb, beef, duck and chicken all in the same broth. Its crisp uniqueness is topped off by bread crumbs folded in the end.
Cooking time: 8 hours
Servings: 8
Ingredients:
4 lb. duck legs and thighs
Kosher salt and freshly ground pepper, to taste
2 table spoon olive oil
1 cup thick beef strips diagonally cut
3 onions coarsely chopped
1/4 cup tomato paste
4 cups plum tomatoes, coarsely cut
2 cups beef broth
10 cups cooked white beans, drained
1 lb smoked garlic sausage links, diagonally cut in two
1 French loaf, cut crosswise
1/4 cup fresh parsley
Oil for brushing
1 large carrot
6 garlic cloves
2 tbsp lemon juice
1 clove crushed
1 cup bread crumbs
Directions:
Season the duck with kosher salt and pepper.
Insert the duck into in the slow cooker and brown it over high heat for over 6 minute and remove.
Add the onions, kosher salt, tomato paste, tomatoes and broth in the slow cooker and stir. Also add in the beans, sausages, duck, beef strip, carrots, lemon juice, clove and garlic.
Cover and cook for 7 to 8 hours on low heat till the meat is tender.
Fold in the bread crumbs and parsley right before you serve.
Brush the French loaf with butter and garlic.
Preheat the oven and toast the garlic bread till it turns golden and crisp. Serve with cassoulet.
Categories: Beef, Black Pepper, Breadcrumbs, Carrot, Cloves, Duck, French, French loaf, Garlic, Hot, Lemon, Main Dish, Oil, Olive Oil, Onion, Parsley, Salt, smoked garlic sausage, Tomatoes, White Beans