Chicken Biryani – A South Asian Blend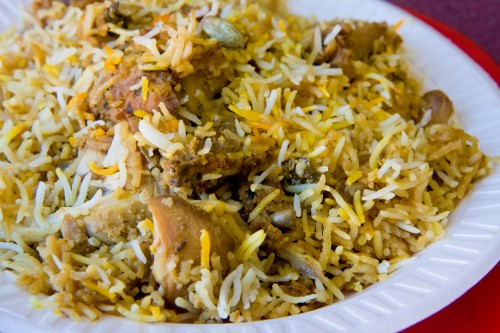 Biryani is a spicy South-Asian rice dish cooked in meat, tomatoes and an aromatic blend of spices. It is traditionally cooked in lamb meat but chicken is also a great and widely preferred option. This mouthwatering platter will make you famous in your friends circle for making the best spicy rice blend ever.
 Servings: 4
 Cooking time:  4 hours
 Ingredients:
 Marinade:
3/4 cup plain yogurt
 2 lb chicken cut into pieces
 8-10 mint leaves
3 tablespoons coriander leaves chopped
 2 tablespoons chili powder
 1 teaspoon all-spice powder
 1 teaspoon ginger paste
 1 teaspoon garlic paste
 1 medium onion, blended into paste
 1/2 teaspoon salt
 1/4 teaspoon turmeric powder
3 green chilies sliced
Yellow food color
 3-4 tomatoes chopped
¼ cup vegetable oil
Rice:
 2 cups uncooked basmati rice
 10 cups water
1 tablespoon oil
2 teaspoon salt
Directions:
Marinate chicken with yogurt, salt, red chili, onion paste, turmeric, ginger and garlic. Mix in the tomatoes.
Boil water in a pot and cook the rice till they are half cooked. Add in oil and salt. Make sure the rice does not overcook. Drain the water.
Turn on the slow cooker and add the chicken marinade.
Layer rice over the batter and cook on low heat for 3 hours.
Uncover the pot and sprinkle garam masala and pinch of food color. Add green chilies, coriander and mint leaves too.
Cook for another hour till the chicken is fully cooked and the rice is ready.
  Serve with salad or yogurt sauce.
Categories: Chicken, Chili powder, Coriander Leaves, Course, Garlic, Ginger, Green Chillies, Holiday, Hot, Indian, Indian all-spice powder, Main Dish, mint leaves, Onion, Salt, Tomatoes, Turmeric, vegetable oil, Yellow food color, Yogurt