Chicken Fajita Spaghetti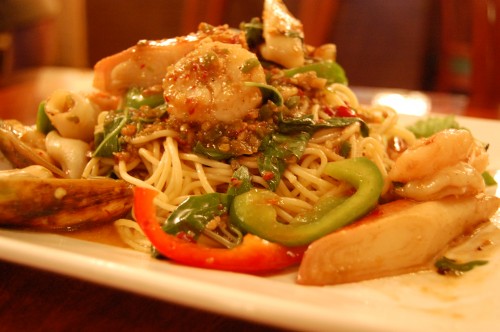 Here is yet another variation for the Tex-Mex lovers. Instead of the typical fajita wraps, try our version of pasta tossed in fajita and tomato sauce. The cheese makes it even richer and creamier.
Cooking time: 4
Servings: 5
Ingredients:
1 pound boneless chicken, cut into 1 inch thick strips
2 tablespoons olive oil
1 teaspoon garlic paste
8 ounces uncooked spaghetti
1 green pepper, cut into strips
1 red pepper, cut into strips
1 medium onion, sliced
1 cup tomato paste
1/4 cup cheddar cheese
1 tablespoon minced fresh cilantro
1 cup chicken broth
Sour cream, optional
For the fajita seasoning:
1 teaspoon salt
1 teaspoon pepper
1 teaspoon crushed red chili
2 tablespoon soya sauce
1 tablespoon vinegar
½ teaspoon cumin seeds
2 tablespoons ketchup
Directions:
Combine the seasonings to make the fajita seasonings.
Marinate the chicken with the fajita seasoning.
In the slow cooker, heat oil and add in the chicken.
Top with the uncooked spaghetti and pour over the tomato paste and chicken broth. Also mix in the onions and bell peppers.
Cover the slow cooker and cook on low heat for 3 hours.
Uncover the chicken and add in cheddar cheese and cilantro.
Let the spaghetti cook for half an hour till the cheese melts.
To Serve:
Scoop out the perfectly layered spaghetti and top with sour cream if desired.
Categories: American, Black Pepper, Cheddar cheese, Chicken, Chicken Broth, cilantro Leaves, Crushed red chilli, Cumin, Garlic, Green Pepper, Hot, Ketchup, Mexican, Olive Oil, Onion, Red Pepper, Salt, Side Dish, Sour cream, Soy sauce, tomato paste, uncooked spaghetti, Vinegar