French toast Casserole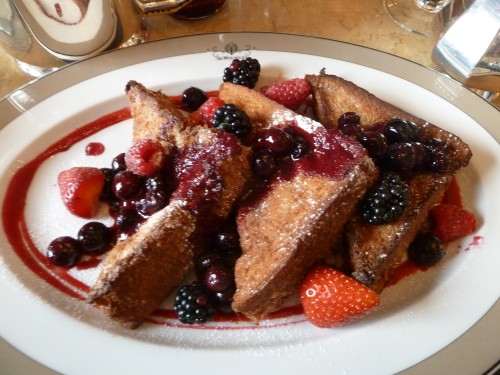 This amazing French toast casserole is ideal for a holiday breakfast. The flavors are as interesting as its name. Lemon zest with the aroma of cinnamon and vanilla combining with the sweetness of apples and honey is all what you need on a holiday breakfast table. Its richness is fit for a king, and it is worth being indulged, once in a while, forgetting the calorie shoot ups.
Cooking time: 3 hours
Servings: 6
Ingredients:
2 whole eggs
3 egg whites
2 tablespoon honey
1 teaspoon vanilla extract
1/2 teaspoon cinnamon
9 Slices whole grain bread
3 tablespoons butter
1 teaspoon lemon zest
½ cup cream
3 uncooked sliced apples
Topping:
3 tablespoon honey or maple syrup
1 teaspoon lemon juice
1/3 cup diced raw pecans
¼ cup walnuts
½ cup brown sugar
Directions:
Blend well the eggs, egg whites, milk, vanilla extract, cinnamon and butter in a bowl, and set aside.
Cut the bread slices into cubes.
Grease the slow cooker with cooking spray.
Whisk together the ingredients for toppings and add in the apple slices. Stir to coat well.
Set a layer of bread on the surface of the greased slow cooker. Pour over a third of filling followed by another layer of bread. Repeat the process until there are three such layers with the apple filling on the top.
Pour the egg and milk mixture over the casserole till the whole dish is soaked with it.
Cover the crock pot and cook on high heat setting for 2-1/2 hours, or until bread
Serve hot.
To serve:
Pour maple syrup over the French toast servings with a dollop of cold whipped cream and canned blueberries or strawberries on the side.
Categories: Apple, Brown Sugar, Butter, Cinnamon, Cream, Dessert, Egg, egg whites, Holiday, Honey, Hot, lemon zest, pecans, Vanilla Essence, walnuts, whole grain bread