Honey Baked Lentils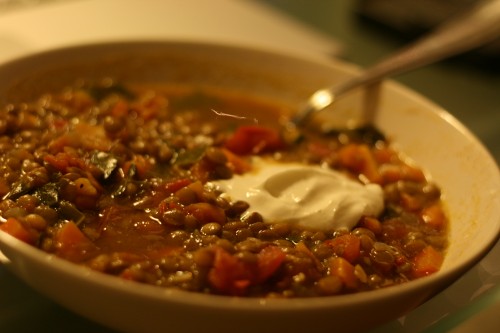 Here is a super easy recipe for lentil lovers and vegans. It's dairy free and saves calories which makes it a must try. When I have a budget to follow and yet want something special for my family I go for Honey baked lentils. Lentils being economical makes the main course pick stay within the budget and the added flavors of beans and honey makes it delicious appetizing.
Servings: 6-8
Cooking time: 7 hours
Ingredients:
2 cups red lentils
4 tablespoons olive oil
4 cups water
1red onion, chopped
1 cup black beans
1 carrot, finely chopped
1 teaspoon salt
1 teaspoon mustard powder
2 tablespoons fresh ginger cut into julienne
2 tablespoons soy sauce
1/3 cup honey
1 teaspoon red chili powder
1 teaspoon garlic paste
2 fresh bay leaves
Directions:
Put the lentils into the slow cooker and add water.
Stir in chopped onions, carrots, rinsed black beans, honey, soya sauce and other seasonings.
Stir well to combine the ingredients.
Add in the bay leaf and cover.
Cook on low for 7 hours.
Variations:
You may use green or brown lentils for a more intact bean-like texture. Red lentils soften and dissolve into mushy appearance.
To serve:
it is best served with boiled white rice and salsa. Mix chopped tomatoes, onions and cucumber and toss in lemon and salt. Spoon over on the sides of baked lentils and enjoy!
Categories: Bay leaf, Black beans, Carrot, Chili powder, Garlic, Ginger, Honey, Hot, Main Dish, Mustard Powder, Olive Oil, Onion, red lentils, Salt, Soy sauce, water