Moist Carrot Cake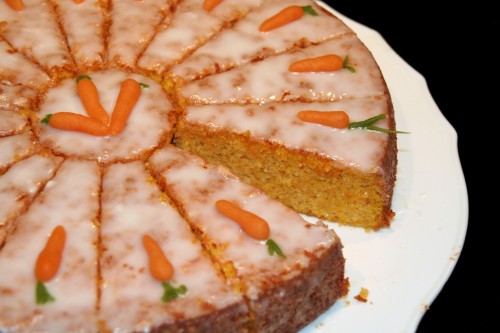 Slow cooker carrot cakes are extremely light and moist. The crumb texture is coarser than the normal cakes. The sweetness from carrots gives it the exceptional flavor and color. It is best for tea parties and can be conveniently packed for picnics too.
Cooking time: 4 hours
Servings: 6
Ingredients:
2/3 Cup Flour
1/2 Cup brown Sugar
1/2 Teaspoon Baking Soda
1/2 Teaspoon Baking Powder
1/2 Teaspoon Ground Cinnamon
1/4 Teaspoon Ground nutmeg
1/4 Teaspoon Salt
1/3 Cup Vegetable Oil
2 Eggs
1 can broken pineapple with syrup
1/2 Cup Golden Raisins
1 Cup Chopped Walnuts
1 Cup Finely Grated Carrot
Cream Cheese Frosting:
1/2 cup (1/2 packet) softened Cream Cheese
1/2 Cup Confectioners Sugar
1/2 Teaspoon Vanilla Extract
Directions:
Sift together and mix flour, sugar, baking soda, baking powder, cinnamon, nutmeg and salt in a large bowl. In a separate bowl whisk together oil and eggs to mix well
Add the dry ingredients to the egg mix and beat well.
Fold in pineapple, raisins, nuts and carrot and use a wooden spatula to combine.
Grease a pan with non-stick cooking spray and pour in the batter.
Place the pan inside the slow cooker and fill the gap with 2 cups water.
Cover the crock pot and cook on high heat for 3-4 hours or until the cake is ready
Check by pricking with a toothpick.
Take out the cake pan from crock pot and let it cool down to room temperature before inverting cake out of the pan.
For the cream cheese frosting, beat together all the ingredients and spread it evenly on the cake.
Categories: Baking powder, baking soda, Birthday, Brown Sugar, Carrot, Cinnamon, Cold, Confectioners Sugar, Cream cheese, Dessert, Egg, Flour, Holiday, Nutmeg Powder, Pineapple, Raisins, Salt, Vanilla Essence, vegetable oil, walnuts