Chicken Teriyaki Wings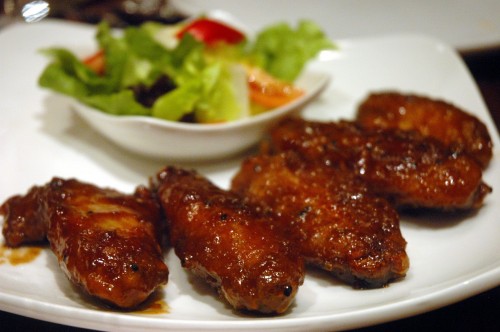 This mouth-watering  appetizer is originally grilled over charcoals that give it a crisp glaze over the surface. In fact, the word 'teri' refers to the glaze while 'yaki' means grilled. It gets its gloss from the honey and soy sauce that beautifully caramelizes over the chicken to give it a golden shine. Once you start munching on these, you will know why the Japanese love it!
Cooking time: 4 hours
Servings: 12
Ingredients:
4 pounds chicken wings, skinned
1 onion, thinly sliced
1 cup low sodium soy sauce
1 cup brown sugar
3 teaspoons ginger
4 cloves garlic, minced
1/4 cup chicken broth
6 tablespoon ketchup
2 tablespoons Oil
Directions:
Shape wings into lollipops/ drumettes.
Brown the chicken on a skillet over high heat for two minutes.
Combine the all the ingredients in the slow cooker. Mix to combine the ingredients.
Cover and cook for 3 to 4 hours on low heat till the chicken are tender and dry.
Cook over high heat to dry the moisture if needed.
Serve hot with tartar sauce and fresh vegetable salad.
To make tartar sauce:
Ingredients:
1 cup mayonnaise
1 tablespoon lemon juice
Salt and pepper to taste
2 tablespoons onions chopped
1 tablespoon pickled cucumber
Directions:
Mix together all ingredients in a bowl and refrigerate.
Serve chilled with the teriyaki wings.
Categories: Appetizer, Black Pepper, Brown Sugar, Chicken, Chicken Broth, Garlic, Ginger, Hot, Japanese, Ketchup, Lemon, mayonnaise, Oil, Onion, pickled cucumber, Salt, Soy sauce