Beef Fajita Strips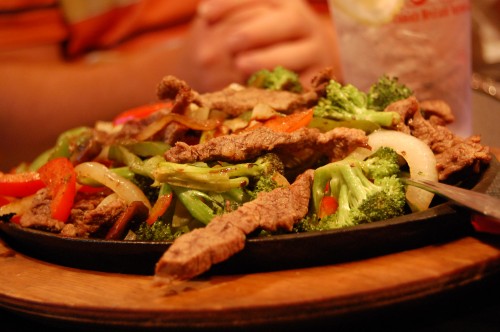 An insanely famous member of the Tex-Mex Cuisine around the world, Beef Fajita strips are a handy snack to store in your refrigerator at all times to provide for the hunger pangs at odd hours. These are traditionally served with tortillas or taco but tastes equally great with rice and breads.
Servings: 8
Cooking time: 4 hours
Ingredients:
2 lb. beef steak, any type, cut in strips
1/3 c. flour
1 tsp. salt
1/2 tsp. pepper
1 large onion, thinly sliced
2 cups tomatoes chopped
1 (4 ounces) can sliced mushrooms, drained
1 tablespoon brown sugar
3 tablespoon soy sauce
1 teaspoon crushed red chili
1 teaspoon cumin powder
4-6 cloves garlic paste
4 tablespoons oil
Directions:
Heat the oil in a skillet. Saute onions till they turn translucent.
Add the beef strips till they change color and all excess water dries out.
Turn on the slow cooker and add in all the ingredients except flour.
Cover and cook on low heat for 4 hours so the beef gets soft and tender.
Add in the flour to thicken any liquid that is present and cook on high heat for 10 minutes.
Turn off the slow cooker and serve hot.
To Serve:
The beef fajita strips taste scrumptious in multiple ways. You may enjoy it with fresh soft or crusty breads. Serve with seasoned pasta or boiled rice or simply roll it in tortillas pita bread with pickled vegetables.
Categories: Appetizer, Beef, Black Pepper, Brown Sugar, Crushed red chilli, Cumin, Flour, Garlic, Hot, Mexican, Mushrooms, Oil, Onion, Salt, Soy sauce, Tomatoes