Turkey Ala King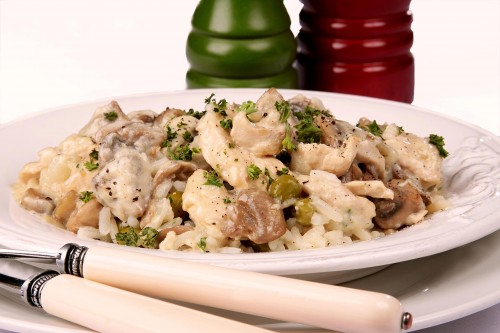 This is a humble variation of Chicken ala King, French for King-Style Chicken. Several histories are connected to this hearty main course; it is mostly likely believed to have originated in Philadelphia in 1890's by Chef William King of the Bellevue Hotel. This pick is ideal for people who are on the look for low-fat meals.
Cooking time: 8 hours
Servings: 6
Ingredients:
2 lbs turkey, cut in cubes
2 medium green peppers cut in 1 inch cubes
1 medium onion, cut into cubes
2 celery sticks, finely chopped
1 red bell pepper, cut into cubes
½ cup sliced mushrooms
2 cans cream of chicken soup
1 ½ cups frozen peas
¼ teaspoon salt
¼ teaspoon pepper
1 teaspoon soy sauce
3 tablespoons all-purpose flour
¼ teaspoon cayenne pepper
Directions:
Combine all the ingredients except the peas, celery and flour in the slow cooker.
Cover and cook on low heat setting for 5 to 7 hours.
Add peas and celery, and cook for another hour an hour.
Add in flour and cook on high heat setting for 15 minutes till the gravy thickens.
Serve hot over boiled rice.
Variation:
You may substitute turkey with chicken too.
To serve:
It also tastes great with freshly buttered bun, breads, and over puff pastry shells. Thicken the gravy and serve as fillings over pasty tarts.
Categories: Black Pepper, cayenne pepper, Celery, Christmas, cream of chicken soup, Flour, Green Pepper, Hot, Main Dish, Mushrooms, Onion, Peas, Red Pepper, Salt, Soy sauce, Turkey breast