Stuffed Chicken Rolls – A Cheesy Surprise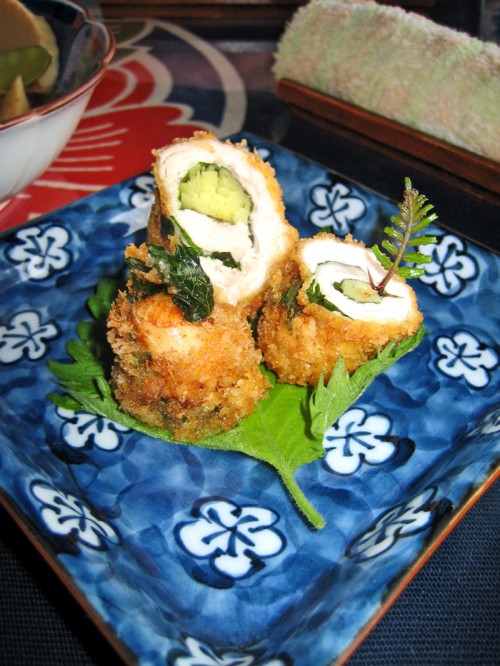 These stuffed chicken rolls are a side dish hidden with cheesy surprises and touches of Italian herbs. The stocky gravy that it is topped with seeps into the chicken rolls that keeps adding to its chick flavor. You can also serve these as bite-sized appetizers by slicing the each piece into biscuit-sized pieces.
Cooking time: 4 hours
Servings: 6
Ingredients:
6 boneless skinless chicken breast halves
6 slices Swiss cheese
1/4 cup all-purpose flour
1/4 cup grated Parmesan cheese
1/2 teaspoon paprika
1/4 teaspoon pepper
1/4 cup olive oil
1 packet cream of chicken soup, undiluted
1/2 cup chicken broth
Chopped fresh parsley
¼ teaspoon Italian herbs
Directions:
Pound chicken to flatten the pieces
Put cheese on each slice and roll them, fastening them with toothpicks.
Mix together, flour, Parmesan cheese, paprika, Italian herbs, salt and pepper. Coat chicken with it and let it refrigerate for at least 45 minutes.
Heat oil in a skillet and brown chicken rolls before putting them in crockpot.
Separately dilute the soup packet in the broth.
Place chicken in the slow cooker and pour the broth mixture over it. Cook on low heat for 4 hours.
Garnish with fresh parsley.
Categories: American, Appetizer, Birthday, Black Pepper, Cheese, Chicken, Flour, Italian herbs, Olive Oil, Paprika, Parsley, With Garnishing