Shrimp and Rice Casserole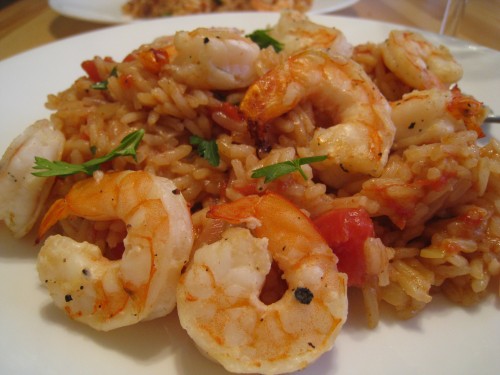 This seafood recipe is extremely easy to prepare. Leave all the ingredients in the slow cooker and let it cook all day till you are ready to serve it in the evening. Raw rice and shrimp cooked together might seem risky at first thought but we assure you that you will get excellent results.
Cooking time: 8 hours
Servings: 6
Ingredients:
1 lb fresh or frozen shrimp
1 cup long-grain rice, uncooked
4 tablespoons butter
1/4 cup chopped green onion
3 tablespoons oyster sauce
1 cup water
1 cup chicken stock
2 tablespoons roasted peanuts
1 red bell pepper, diced into cubes
1 yellow bell pepper, diced into cubes
1 teaspoon salt
1 teaspoon pepper
1 tablespoon garlic powder
1 can cream of chicken soup
1/4 cup chopped parsley
Directions:
Remove any shells and clean the shrimps. Dry.
In a slow cooker, combine butter, cream of chicken soup, rice, shrimps, water, stock and the seasonings.
Cover and cook on low heat for 6 hours. Add peanuts, chopper peppers and green onions.
Cook for another 2 hours so the shrimps are cooked along with rice. Do not overcook as the shrimps may turn rubbery and rice might get mushy.
Mix in chopped parsley. Serve hot.
To serve: Serve with hot sauce and jacket potatoes
Categories: Black Pepper, Butter, Chicken Broth, cream of chicken soup, Garlic, Green onion, Holiday, Hot, Main Dish, oyster sauce, Parsley, Red Pepper, Rice, roasted peanuts, Salt, Shrimps, water, yellow bell pepper