Queso Blanco (White Cheese) Dip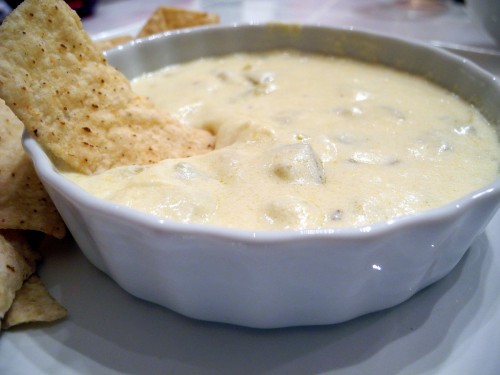 Queso Blanco is an irresistible Mexican treat to start your dinner with. The creamy white dip is served with tortilla chips and salsa. Here is an authentic dip recipe made with American cheese, but you can make several variations depending on your taste preferences.
Cooking time: 1 hour
Serves: 14
Ingredients:
2. Lbs White American Cheese, diced into 1 inch cubes
6 Green Chiles, chopped
2 Pickled Jalapenos, Chopped (do not drain)
1 cup Milk
1/2 Cup Cold Water
1 onion, chopped finely
4 tablespoons cilantro leaves
1 tomato chopped
Salt to taste
Cream ½ cup
Taco chips to serve
Directions:
Toss the cheese, green chilies, jalapeno, milk and salt into the slow cooker. Using a crock pot dipper is a good option.
Cover and cook on low heat for an hour or till cheese melts and the dip turns smooth.
Add water if the dip gets too thick.
Mix in the onion, tomato and cilantro and cook on high heat for 10 minutes.
Serve warm with taco chips.
Variation: The dip taste equally scrumptious with Asadero cheese. Substitute the Jalapenos with lemon juice if you feel that the jalapenos can get too pungent. You may also prepare this dip with ready made salsa instead of chopped onions and tomatoes to save time. Omit cream to cut back calories.
Tip: Do not overcook the dip with salsa as the dip may get mushy and lose its crunch.
Categories: Appetizer, Cheese, cilantro Leaves, Green Chillies, Jalapeno, Milk, Onion, Salt, Tomatoes, Warm, water