Ol' days Chicken and Dumplings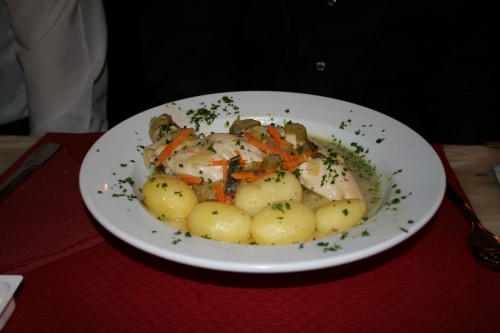 Remember the cottony dumplings grandma used to make? These might truly bring you nostalgia. The veggies lend its color and freshness, while cooking over crock pot makes it soft and fluffy. Italian herbs especially highlight their flavors guaranteeing dumplings just like the Grandma's- perfect menu for a relaxing weekend.
Servings: 6
Cooking time: 7-9 hours
Ingredients:
1 potato, peeled and diced
3 carrots, sliced
1 onion, coarsely chopped
3 cloves minced garlic
½ cup mushrooms sliced
2 cups chicken broth
4 tablespoons flour
1/2 teaspoon salt
1 tsp. dried thyme leaves
1/4 teaspoon pepper
2 lbs. boneless chicken cut in cubes
1 cup peas
1/2 cup milk
2 Tbsp. butter, melted
For the dumplings:
2 cups flour
1/2 teaspoon baking powder
1/2 teaspoon salt
1 tablespoon parsley chopped
½ teaspoon Italian herbs
Directions:
Combine chicken stock, flour and seasoning in a bowl and mix well.
Put potatoes, carrots, onion, mushrooms, seasonings and garlic in the crock pot along with the stock mixture. Add chicken.
Put on the lid and cook on low for 7 hours till the chicken perfectly cooked. Add peas and cover again. Cook for another half an hour.
Mix together the ingredients for dumplings. Melt butter and mix with milk; add to flour mixture and stir well.
Drop dumplings into the crock pot with help of spoon. Make sure that broth is bubbling while you add the dumplings so they stay round and do not get soggy. Cover and cook on high for 25 minutes until dumplings are cooked.
Serve hot in soup bowls balancing chicken, dumplings, vegetable and broth.
Categories: Black Pepper, Butter, Carrot, Chicken, Chicken Broth, Flour, Garlic, Hot, Italian, Main Dish, Milk, Mushrooms, Onion, Peas, Potato, Salt, Thyme