Noodle Hot and Sour Soup with Tofu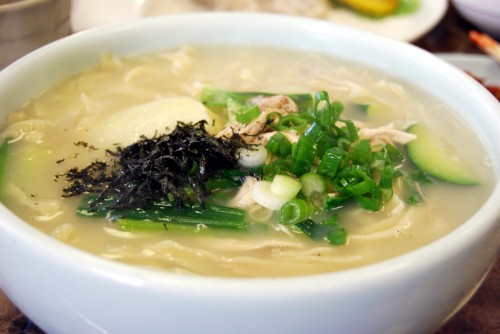 Given below is a rare Chinese vegan recipe; most recipes have some element of meat in them. The hot and sour noodle soup gives plenty of protein and is best for colds and influenza with its chili content and hot servings. You may add chicken mince if you prefer the non-vegan tastes.
Servings: 6
Cooking time: 5-7 hours
Ingredients:
1 ½ cup tofu, cut in cubes
2 cups water
½ cup mushroom caps
4 cups chicken broth
4 tablespoons white vinegar
2 tablespoons soy sauce
1 tablespoon ginger, finely chopped
2 teaspoons sugar
3/4 teaspoon white pepper
1 teaspoon garlic, minced
4 tablespoons cornstarch dissolved in ¼ cup water
1/2 cup sliced bamboo shoots, cut into julienne
1 large egg, beaten
1/2 cup thinly diagonally sliced scallions
1 cup noodles, uncooked
1 tablespoon chili sauce
Directions:
Cut the tofu into cubes, prepare the mushroom caps, scallions and bamboo shoot a day before and refrigerate.
Combine everything except the cornstarch and scallions in the slow cooker and cook on low heat for 5 to 7 hours.
Add the cornstarch and cook for 10 minutes on high heat till the soup thickens.
Add the scallions into the soup. Serve hot.
Tip: take care not to overcook the soup so that the bamboo, noodles and tofu get tender but stay intact.
Categories: bamboo shoots, Chicken Broth, chili sauce, Chinese, Christmas, cornstarch, Egg, Garlic, Ginger, Holiday, Mushrooms, noodles, scallions, Soup & Stew, Soy sauce, Sugar, Tofu, water, White pepper, white vinegar