Hungarian Beef Goulash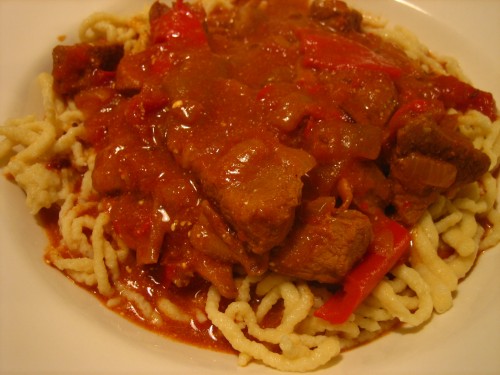 Goulash is a Scandinavian version of the stew in which the meat cooks in sauces flavored with paprika. Let the beef cook in the slow cooker for several hours so that the meat absorbs the flavors of this saucy stew. With a little variation and water to this recipe, you may also prepare goulash soup.
Servings: 10
Cooking time: 8-10 hours
Ingredients:
4 lb beef stew meat, cut into 1 inch chunks
2 teaspoons salt
1/2 teaspoon black pepper
2 tablespoons Worcestershire sauce
2 tablespoons olive oil
2 large onions, sliced into coarse rings
2 tablespoons chopped garlic
4 tablespoons paprika powder
1/8 teaspoon cayenne pepper
2 cups beef broth
5 tomato, chopped
3 tablespoons cornstarch
1/4 cup water
Directions:
Marinate the beef with 1 teaspoon salt and 2 tablespoons paprika.
Heat oil in a skillet and sauté the beef so that it turns brown and excess water dries out.
In a slow cooker, add in the beef, onions, tomatoes broth and rest of the seasonings, and cover. Cook the goulash for 8 to 10 hours on low heat.
Dissolve the cornstarch in water and add into the crock pot to thicken the gravy. Turn off the crock pot.
To serve: Serve with boiled rice, boiled pasta or crusty breads.
Variations: You may also add in baby carrots and baby potatoes to add balance to the meaty flavor.
Categories: Beef, beef broth, Black Pepper, cayenne pepper, cornstarch, Garlic, Holiday, Hot, Olive Oil, Onion, Paprika, Salt, Soup & Stew, Tomatoes, water, Worcestershire sauce