Home-made Beef Ravioli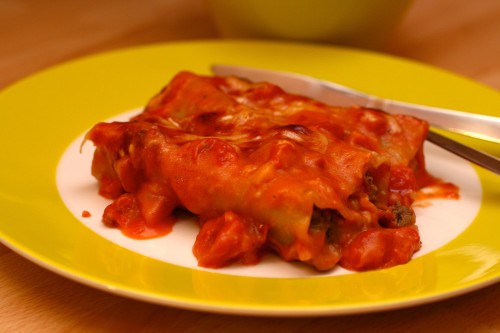 Making raviolis at home and that too, in a slow cooker might seem time-consuming but once you get started, difficult will be old story. You can make this Italian dish in large amounts and refrigerate them conveniently for later use. Stuff them with cheese, beef, chicken or a stuffing of your own choice. Something that has so many variations and you making it yourself by putting some extra efforts for your friends and family will surely inspire them.
Servings: 7
Cooking time: 9 hours
Ingredients:
1-2 Tbsp olive oil
1 onion, finely chopped
1 carrot, finely chopped
1 stalk celery, finely chopped
3 cloves garlic, peeled and finely chopped
1 kg beef minced
500g chopped tomatoes
1 tablespoon Italian herbs
1 packet dumpling wrappers
Salt and pepper to taste
1 teaspoon Crushed red chilli
Parmesan cheese, to serve
Parsley chopped
Directions:
Grease the cock pot with oil. Put all the vegetables, beef, salt, pepper and red chill in the crock pot.
Cook on high for 4 to 5 hours or till beef is cooked well.
Spread the meat on a flat tray and let it cool down.
Place a dumpling wrapper on a clean tray and put a tablespoon of meat stuffing in the middle. Cover it with another wrapper and seal them by brushing egg on the edges. Follow the process to make around two dozen raviolis.
Now place the stuffed raviolis in the crock pot and pour over the tomato sauce.
Let it cook for 4 hours on low heat.
Serving: Serve the Raviolis by pouring sauce over them. Sprinkle Parmesan and parsley when garnishing. You may drizzle a dash of extra virgin olive oil and pesto sauce as you serve.
Tip: Be careful not to overcook the raviolis or they may get mushy. These raviolis taste excellent with white sauce too.
Categories: Beef, Black Pepper, Carrot, Celery, Cheese, Crushed red chilli, Dumpling wrappers, Garlic, Holiday, Hot, Italian, Italian herbs, Main Dish, Olive Oil, Onion, Parsley, Salt, Tomatoes, With Garnishing