Herbed Salmon Recipe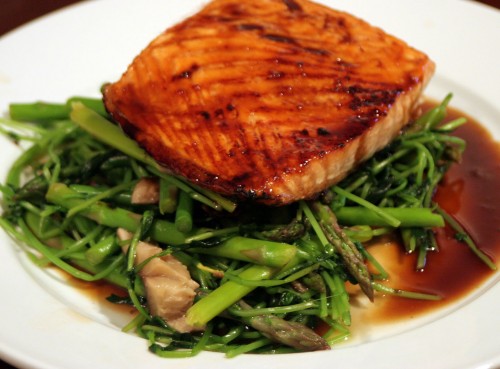 Salmon is one my favorite fish. Whether you cook, grill, fry or roast Salmon, it makes a hit on the dining table every time. The slow cooked version of roasted herb salmon will definitely leave you crave for more. This method of cooking fish melts the fat and let the flavors seep through the meat that makes every bite softer and juicier.
Cooking time: 6
Servings: 4
Ingredients:
1 boneless salmon
4 tablespoons extra-virgin olive oil
3 tablespoons parsley, chopped
3 green onion leaves, finely sliced
1 tablespoon dill seeds
¼ teaspoon fresh thyme leaves
2 tablespoons lemon juice
4 garlic cloves, minced
¼ teaspoon red chili flakes
2 lemons sliced
2 oranges sliced
Mint leaves
Salt and black pepper to taste
Directions:
Prepare the herb mixture by mixing together salt, pepper, thyme, garlic, chili flakes, onions leaves, and lemon juice and dill seeds.
Rub the mixture well over the salmon and let it sit for half an hour at room temperature.
Heat oil in the slow cooker and carefully transfer the salmon in it.
Layer oranges and lemon over the salmon and cover the cooker.
Roast on low heat for 2 hours till the fish is tender. Do not overcook the fish as it might break.
Garnish with mint leaves and cooked lemon and orange slices.
To serve:
Serve with fruit salsa and tartar sauce.
Categories: Birthday, Black Pepper, Course, dill seeds, Garlic, green onion leaves, Holiday, Hot, Lemon, Main Dish, mint leaves, Olive Oil, orange, Parsley, red chili flakes, salmon fish, Salt, Thyme