The French Dip Sandwiches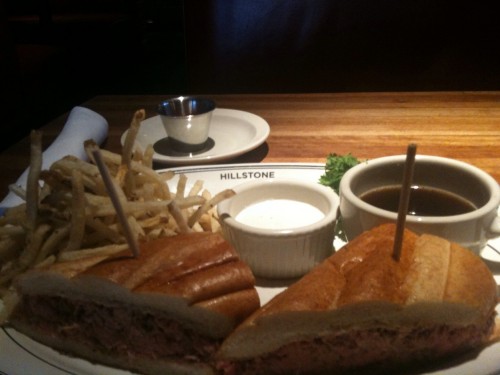 The French Dip Sandwich is a great beef recipe if you want to deviate from the typical roast or steak. Rest the juicy beef slices on the crispy French loaf and let it sink soft from the warm meaty juices. Top it off with Swiss or any other cheese of your choice. What makes this sandwich special is the combination of easy preparation, simple serving and scrumptious taste.
Servings: 7
Cooking time: 8-10 hours
Ingredients:
3 pound beef roast, remove excess fat
Salt and freshly ground black pepper to taste
Olive oil
2 onions, chopped
2 tablespoons Worcestershire sauce
4 tablespoons tomato paste
2 cups beef stock
French loaf, sliced lengthwise
Swiss or Mozzarella cheese
1 teaspoon onion powder
Directions:
Remove extra fat from the roast rump, and place in a slow cooker. Add the beef stock, onions, seasoning, sauces and oil. Cook on Low setting for 7 hours.
When tender, remove the beef, slice the meal diagonally and put it back in the slow cooker
Sprinkle cheese over it and cook till it melts.
Split French rolls and heat them over a pan or microwave.
Place the meat on the loaves and sandwich them. Serve the sauce for dipping.
Adding some tossed green vegetables on the plate will enrich the color and presentation and will add great texture to your meal.
Categories: Beef, Black Pepper, Cheese, French, Garlic, Olive Oil, Onion, Salt, Side Dish, Tomatoes, Worcestershire sauce