Fish Au Gratin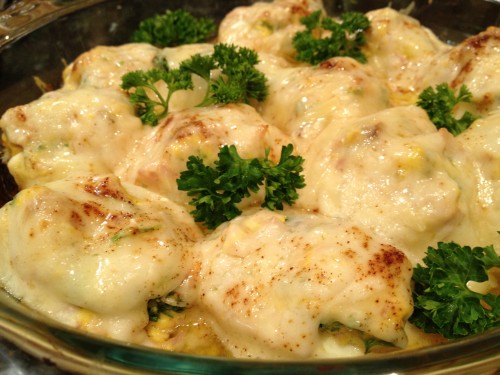 Here comes a homely recipe from the Scandinavian American cuisine. De-boned fish of any type is broiled and topped with the cheesy sauce. I prefer using cod fish and serving it with fries, but it tastes excellent with pesto pasta too. Bread crumbs folded in the end gives it a great crisp texture.
Servings: 10

Cooking time: 1 ½-2 hours
Ingredients:
4 lbs. frozen white fish fillets
8 tablespoons butter
4 tablespoon flour
2 teaspoon salt
1/2 teaspoon dry mustard
1/4 teaspoon nutmeg
1 1/2 cup milk
4 tablespoon lemon juice
1 cup cheddar cheese, shredded
Buttered bread crumbs
Directions:
To make the sauce, melt butter in a pan. Whisk in the flour, salt, mustard and nutmeg. Cook for a minute.
Add in milk, whisking continuously to avoid lump formation.
Add lemon juice and cheese and stir till the cheese melts.
Carefully layer the fish fillets into the slow cooker, and pour the cheese sauce over it.
Cover the crock pot and cook on high heat for 1 hour. Stir in the butter bread crumbs.
Cook for another half an hour till the fish is cooked. Be careful not to overcook as fish might break as a result.
Serve hot with fries and tartar sauce.
To serve: serve fish au gratin on its own with tartar sauce and potato wedges. It also greatly complements with the pesto pasta
Categories: American, Breadcrumbs, Butter, Cheddar cheese, dry mustard, fish fillets, Flour, Hot, Lemon, Main Dish, Milk, Nutmeg Powder, Salt