Creamy Beef Stroganoff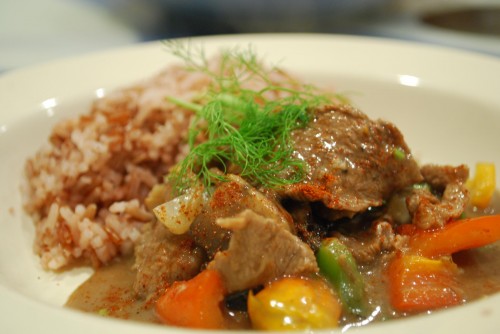 The recipe is easier than its name; the creamy stroganoff with practically melt-in-the-mouth beef poured over pasta or rice will lure your family to the table no matter how choosy they are. Blended mushrooms make it even creamier, but you may use them raw if you like the taste and wish to add some texture.
Servings: 6
Cooking time: 9 hours
Ingredients:
1/4 cup water
2 tablespoons Worcestershire sauce
1 package (8 ounces) sliced white mushrooms (about 3 cups)
3 medium onions, coarsely chopped (about 1 1/2 cups)
3 cloves garlic, minced
1/2 teaspoon ground black pepper
1 boneless beef bottom round steak (about 2 pounds), cut into thin strips
2 cups beef broth
4 tablespoons cornstarch
1 cup sour cream
1 package (12 ounces) medium egg noodles (about 7 cups), cooked and drained
Chopped fresh parsley (optional)
Directions:
Blend half the mushrooms well.
Combine all ingredients except sour cream, cornstarch, noodles and parsley slow cooker. Also add raw and blended mushrooms.
Cook on low heat for 8-10 hours.
Combine the sour cream in a medium bowl with flour and water and mix the ingredients well, using a whisk.
Add this to the crock pot and stir till combined.
Cover the crockpot lid properly and cook for 20 min to half an hour on high until thickened.
Add a dash of crushed red pepper if you like to give it a spicier kick.
Serve over hot cooked egg noodles, pasta of your choice or a bed of garlic fried rice and enjoy the creamy treat.
Categories: Beef, Black Pepper, Corn Starch, Egg noodles, Garlic, Main Dish, Mushrooms, Onion, Parsley, Sour cream, water, Worcestershire sauce