Cheesy Mexican Fondue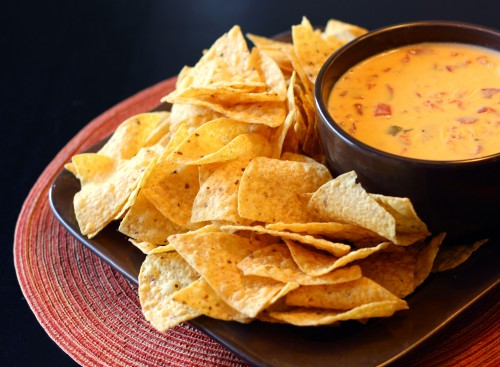 A cheesy pick for those who are fond of dippers and are ready for Mexican food at all times. The final swirl of salsa gives it the native touch. Serve instantly as fondues taste best when hot. It is also a perfect appetizer for parties and occasions as takes less time and effort and scores full in taste.
Servings: 36
Cooking time: 2 hours
Ingredients:
1 ½ cup cream-style corn
3 tomatoes, finely chopped
3 tablespoons green chilies chopped
¼ teaspoon chili powder
3 cups American cheese cut into small cubes
½ cup milk
Chopped parsley to garnish
Directions:
Transfer all the ingredients in the slow cooker and toss well to combine.
Cover and cook on high heat setting for 2 hours till the cheese melts and all the ingredients fuse well.
Serve hot with dippers or if there is time, keep the fondue covered over warm setting till you finally serve.
If it gets thick meanwhile, add in milk as required.
Mix in freshly cut parsley before you serve.
To Serve:
Serve with crusty or corn bread cubes, tortilla chips or over fried egg noodles. Swirl in 2 spoons full of salsa into the fondue to get a fuller Mexican flavor.
Variation:
You may use jalapeno peppers instead of green chili. Also sprinkle a dash of Tabasco sauce if you like the taste even hotter and varied.
Categories: Appetizer, Birthday, Cheese, Chili powder, cream-style corn, French loaf, Green Chillies, Holiday, Hot, Mexican, Milk, Parsley, Tomatoes