Broccoli Cheese Soup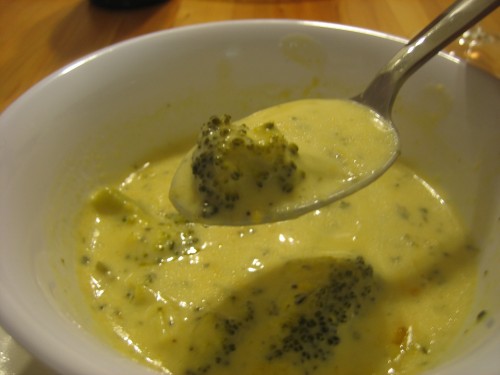 Broccoli possesses great health benefits. Make sure the vegetable is not overcooked to sustain it's benefits. This recipe  has color, texture and taste which will make your friends and family scrap off the cheesy soup  bowls to the last speck . Thanks to my neighbor who shared her recipe with me, I can can count on this soup to impress my guests.
Servings: 8
Cooking time: 3 hours
Ingredients:
1/2 cup butter
2 cups chopped onion
4 cloves garlic, minced
8 tablespoons all-purpose flour
Salt to taste
Black pepper to taste
3 cups evaporated milk
5 cups chicken broth
5 cups broccoli florets diced
1/4 teaspoon thyme leaves
3/4 cup heavy cream
2 cups cheddar cheese, shredded
½ cup Parmesan cheese, finely shredded
Directions:
Separate the stems from the broccoli crowns and use the florets, cut into small pieces.
Melt butter in a skillet over the stove on medium heat. Saute onions for two minutes till they soften and add garlic, flour, salt and pepper. Continue to stir with the spoon for another two minutes.
Gradually add in evaporated milk and whisk constantly. Turn off the stove as it thickens.
In a slow cooker, combine the flour mixture, chicken broth, broccoli and thyme. Cover and cook on high heat for 3 hours.
Add in cheddar cheese and cook on low heat for another half an hour.
Turn off the slow cooker and stir in heavy cream and Parmesan cheese. Cover till it melts to combine.
Serve hot. Adjust salt and pepper if desired.
Categories: Birthday, Black Pepper, Broccoli, Butter, Cheddar cheese, Chicken Broth, Christmas, Evaporated Milk, Flour, Garlic, heavy cream, Holiday, Hot, Onion, Parmesan cheese, Salt, Soup & Stew, Thyme