Bite Sized Meatballs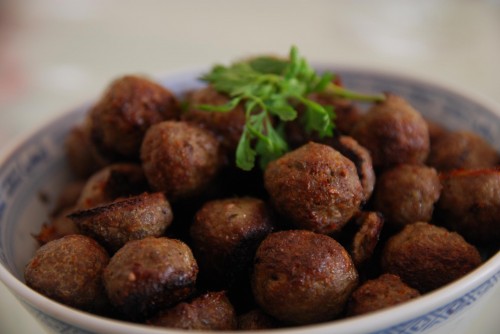 Meatball is a plate that has traditionally stood the test of time; no one ever gets over it. This saucy bite-sized appetizer is bound to tempt strict vegans to flout from their resolves, as popping a ball in becomes irresistible. It is a great choice when you are having a dozen guests over; just prop in the balls with this homemade sauce let the crock pot do the work for you.
Add to its richness by sprinkling cheese on top as you hit your guests with this smacking  and super tasty slow cooker meatballs appetizer that can play its role well as a side dish.
Servings: 8
Cooking time: 4 hours
Ingredients:
2 canned cherry tomatoes
2 cups tomato sauce
½ teaspoon minced garlic
½ teaspoon oregano powder
½ teaspoon rosemary
½ teaspoon thyme
½ teaspoon sugar
½ teaspoon lemon juice
Parmesan cheese (optional)
1 kg meatballs
Directions:
Mix salt, tomatoes, tomato sauce, lemon juice, sugar, garlic, oregano, thyme, rosemary together and blend till they turn into a smooth sauce.
Put the meatballs in the slow cooker and pour the sauce over it.
Cover and cook on low heat for 4 hours, letting the balls absorb the flavor.
Sprinkle a little Parmesan cheese to form a thin cheesy veneer on top if you desire as you serve.
Categories: Appetizer, Beef, Birthday, Cheese, Garlic, Holiday, Hot, Lemon, Oregano, Rosemary, Side Dish, Sugar, Thyme, Tomatoes