Beef and Olive Tagine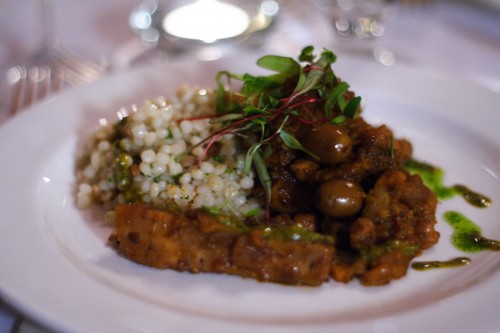 Beef and Olive Tagine is a Moroccan dish that is traditionally cooked over coals in earthen clay pots. This promising slow cooker version offers you a close experience in a tight budget. Olives are well known for blood pressure and cholesterol control, which beautifully balances off beef's spin-offs.
Serves: 6
Cooking time: 8 hours
Ingredients:
2 1/2lb beef chunks
1tbsp plain flour
4 table spoons sunflower oil
2 onions thinly sliced
2 bell peppers sliced
2 tbsp. harissa paste
1 beef stock cube
½ cup green olives
1 kg tomatoes finely chopped
½ kg chickpeas, soaked overnight and drained
8 dried apricots, halved
1 cup couscous
Roasted almonds and cilantro for garnishing
Beef rub:
Salt and pepper to taste
1 tablespoon Ras el hanout spice mix
1 teaspoon roasted cumin
1 teaspoon cinnamon powder
1 tablespoon chopped ginger
1 tablespoon paprika
Directions:
In a bowl, combine the ingredients for the rub and apply well over beef. Leave it overnight or at least for two hours to marinate.
Put oil in the slow cooker in a slow cooker and add in beef. Then mix in onions, olives, tomatoes, chickpeas, bell peppers, apricots, stock cube, harissa paste and flour.
Cover and cook on low heat for 8 hours till the beef turns really tender.
Sprinkle cilantro and almonds on top and serve with seasoned khus khus.
Serving: This main course complements well with hot boiled rice and pita bread
Categories: Almonds, apricots, Beef, beef stock cube, bell peppers, chickpeas, cilantro Leaves, couscous, Flour, green olives, harissa paste, Hot, Main Dish, Moroccan, Onion, sunflower oil, Tomatoes