Spicy Indian Chickpea Curry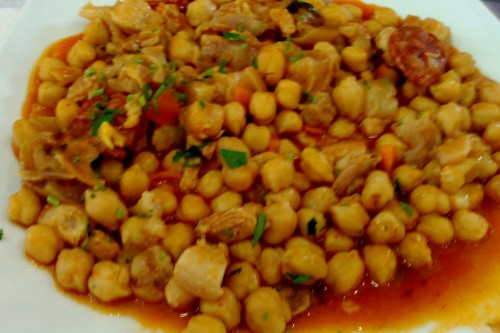 Present is the authentic Indian chickpea curry's recipe that will enliven your taste buds on a cold winter day. You may alter the recipe by reducing the spice content if you prefer less spice or add a little cheese instead to bring more in line with Western flavors, but the original recipe with the traditional spices is surely delicious.
Cooking time: 4-5 hours
Servings: 6
Ingredients
2 cups dried chickpeas, soaked overnight and drained
1/2 teaspoon salt
1/2 teaspoon turmeric
1 teaspoon red chili powder
1/2 teaspoon Indian all-spice powder
1 teaspoon ground ginger
1 teaspoon curry powder
1/4 teaspoon ground black pepper
4 tablespoon olive oil
1 onion chopped finely
2 tomatoes, finely chopped
2 cloves minced garlic
1 teaspoon tamarind paste
10 green olives
½ cup fresh cream
1 bay leaf
2 tablespoons coriander
Directions:
Heat oil in the slow cooker and saute onions till they turn translucent
Put in turmeric, red chili powder, salt, curry powder, black pepper in the slow cooker and let it cook for 3 minutes on high heat.
Then add the tomatoes, dried chickpeas, garlic, tamarind paste, green olives and the bay leaf. Stir to combine the ingredients.
Cook for 4 hours on high heat.
Mix in cream, parsley and all-spice powder as you turn off the cooker and prepare to serve.
Tip: Take care not to overcook the curry to prevent the chickpeas from getting mushy.
Serving style: This dish is traditionally served with chapattis. You may alter that with pita bread or serve with coconut rice.
Categories: Bay leaf, Black Pepper, chickpeas, Chili powder, Coriander Leaves, Cream, Curry powder, Garlic, Ginger, green olives, Hot, Indian, Indian all-spice powder, Main Dish, Olive Oil, Onion, Salt, Tamarind paste, Tomatoes, Turmeric