Soy Ginger Chicken with Flavors of Far East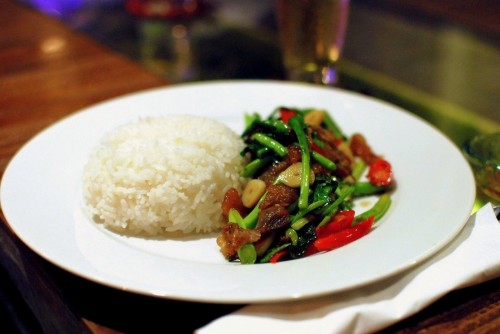 A member of Thai Cuisine, this recipe intelligently blends soy and ginger with sweet, sour and spicy flavors all at the same time. It is served with white boiled rice; treat your taste buds with flavors of the Far East. Travel time is only as long as the crock pot simmers.
Serving: 6
Cooking time: 6 hours
Ingredients:
1 kg chicken, thighs and legs
1/2 cup soy sauce
1/4 cup water
1 tablespoon balsamic vinegar
2 tablespoons brown sugar
1 teaspoon paprika
1/4 teaspoon Chinese salt
1 tablespoon grated ginger
2 carrots, sliced diagonally
1 onion cut in thin wedges
5 cloves garlic, coarsely chopped
Cilantro leaves
2 teaspoons cornstarch
2 scallions, sliced diagonally
Boiled white rice
Directions:
Place chicken, carrots and onions in a slow cooker.
Mix together soy sauce, brown sugar, ginger, garlic, vinegar, coriander and pepper and pour into the crock pot. Cook on low for 6 hours till the chicken is chicken is tender.
Keep chicken aside and separately cook the left over juices till it gets thick. Add in cornstarch to retain thick gravy.
Serve the chicken with white boiled rice, pouring the gravy over it. Garnish with cilantro leaves.
Tip: To give chicken an attractive brown color, saute chicken in a skillet on high flame for two minutes before putting in the slow cooker.
Categories: balsamic vinegar, Brown Sugar, Carrot, Chicken, Chinese salt, cilantro Leaves, cornstarch, Course, Garlic, Ginger, Hot, Onion, Paprika, scallions, Soy sauce, Thai, water, With Garnishing