Sloppy Joes Burger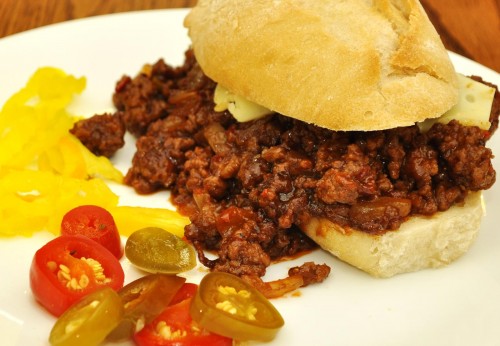 This juicy, Pattie-less burger has a very exclusive feel and taste. The stuffing is made with ground beef cooked in tomato sauce. Every bite infuses flavors in your mouth. It originated in the United States and the flavor simply multiplies when cooked up in crock pot.
Cooking time: 5 hours
Serving: 8-10
Ingredients:
2 pounds mince beef
4 tablespoon oil
1 onion, finely chopped
1 green pepper, chopped
2 cups tomato sauce
¾ cup ketchup
1 teaspoon salt
3 tablespoons Worcestershire sauce
1 teaspoon chili powder
½ teaspoon pepper
4 cloves garlic chopped
2 teaspoons brown sugar
½ cup Dijon Mustard
8 sandwich buns cut into halves
½ cup mayonnaise
Directions:
Heat oil in a skillet. Saute beef over high flame for ten minutes till the meat changes color and excess water dries out.
In a slow cooker, add in beef, salt, pepper, ketchup, tomato sauce, chili powder, Worcestershire sauce, garlic and brown sugar. Cover and cook for 3 hours on low heat.
Add in onions and green pepper in the mixture and let it cook till the meat is fully cooked.
Spread mustard on the lower half of the bun. Place a spoonful of sloppy Joes mixture over it. Spread mayonnaise over the upper half and top the burgers.
Heat for two minutes in the microwave oven to soften and fresh buns
Serve hot with fries.
Categories: American, Beef, Birthday, Black Pepper, Brown Sugar, Chili powder, Garlic, Green Pepper, Holiday, Hot, Ketchup, Main Dish, mayonnaise, Mustard, Oil, Onion, sandwich buns, tomato paste, Worcestershire sauce