Shrimp Cajun Stew- The Penchant for Sea Food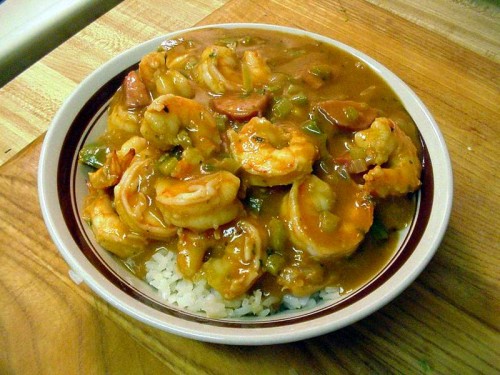 If you are looking for a recipe with shrimps that is surely going to turn out fantastic in a crockpot? Then your search is over as this mouthwatering recipe with a combination of onions and capsicum and a touch of cayenne pepper with bay leaf gives it the kick of Cajun food.
The slow cooking adds amazing flavors to the shrimps and the stew. Shrimps can be altered with chicken if do not have the penchant for sea food. The recipe requires a little attention regarding the low and high heat timings but trust me this tiny effort pays off with a spoon full of this  main course meal which can be enjoyed with rice or bread alone.
Servings: 6
Cooking time: 7 hours
Ingredients:
1 lb sausages sliced
½ cup shrimps unpeeled and cleaned
1 medium onion sliced into wedges
2 cloves garlic chopped
2 celery stalks diced
1 green capsicum diced
1 tablespoon corn starch
6 diced tomatoes
1/2 cup water
1/4 teaspoon cayenne pepper
1 teaspoon bay leaf
Salt & pepper
Directions
Put the sausage, onion, celery and pepper in the slow cooker
Now add tomatoes, water, and cayenne
season with salt
Cover the lid and cook on low for 6 hours
Add shrimps and cook on high for another hour
Dissolve cornstarch in water and add to thicken the stew
Turn heat up to high and cook for another 5 minutes
Serve over white rice
Categories: American, Bay leaf, Black Pepper, Capsicum, Celery, Corn Starch, Garlic, Holiday, Hot, Main Dish, Onion, Salt, Sausages, Shrimps, Tomatoes, water