Red Velvet Cake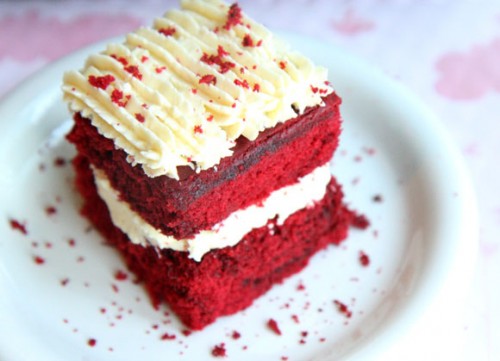 When love goes in the air, this red, heart-melting cake should be your choice for the dessert. Plan this wedding anniversary with slow cooking red velvet cake this year, so you have the time to look and feel good for your spouse without needing to spend your day in the kitchen.
Cooking time: 2-3 hours
Servings: 4-6
Ingredients:
1/4 cup sugar
¼ cup butter
1 egg
1/4 cup unsweetened cocoa
1 cup all-purpose flour
1 teaspoon baking soda
1/2 teaspoon salt
1/2 cup buttermilk or buttermilk substitute
1½ teaspoons white vinegar
A pinch of red food color
For Butter-cream Frosting:
2½ cups caster sugar
1 tablespoon butter
1/2 teaspoon vanilla
2 tablespoons milk
Directions:
Beat sugar and butter in a bowl till they get light and fluffy in texture.
Add egg and vanilla and blend well.
Follow with adding in food color and cocoa powder and beat well.
Now add in vinegar and butter milk to the mixture, and whisk it well with an electric beater.
In a separate container, mix in flour, baking powder and salt.
Add these dry ingredients to the mixture too.
Line the slow cooker with two sheets of foil in a way that that the sheet line out of the slow cooker to act as handles later.
Grease the sheets with oil and pour in the batter.
Cover and cook on high heat 2 to 3 hours.
Prick with a skewer to check if the cake is done.
To make the butter cream icing, combine all the ingredients in a sauce pan and cook on low heat till they combine but do not let them boil. Cool the frosting before applying it on the cake.
Turn off the slow cooker and let it sit for half an hour till it cools on room temperature.
Remove slow cooker red velvet cake to wire rack and top it with butter cream frosting.
To serve: Serve with a dollop a whipped cream if you like. It tastes great on its own too.
Categories: baking soda, Butter, buttermilk, Egg, Flour, Milk, red food color, Salt, unsweetened cocoa, Vanilla Essence, white vinegar