Queenly Butterscotch Pudding Cake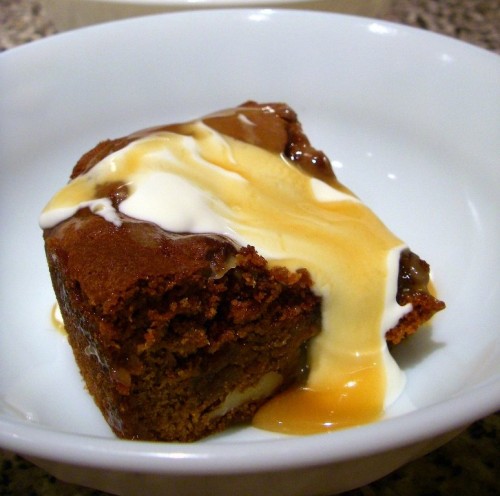 The extremely delectable flavor of this cake lends royalty to this recipe. Butterscotch, combined with your love as the queen of the house might mean that you may need to prepare extra servings of this pudding cake for your special ones. Cooking in the slow cooker makes it juicier, softer, and creamier than when baked in the oven. I top my cake with the chocolate sauce, which beautifully embosses the butterscotch flavor.
Servings: 6
Cooking time: 3-4 hours
Ingredients:
1 cup all-purpose flour
1/3 cup white sugar
2 tablespoon unsweetened cocoa powder
1 1/2 teaspoon baking powder
½ cup chocolate milk or regular milk
2 tablespoon oil
2 teaspoon vanilla essence
1/2 cup butterscotch chips
1/2 cup semisweet chocolate chips
1/2 cup grounded almonds
For chocolate sauce:
3/4 cup sugar
2 tablespoon. unsweetened cocoa powder
1 1/2 cup boiling water
Directions:
Grease the slow-cooker with oil.
Combine all ingredients, except butterscotch chips, and beat well till smooth.
Fold chips into the batter and pour into slow-cooker.
Combine well the ingredients of the chocolate sauce and to the crock.
Cover and cook on high for 2 hours. Bring to low for the final half an hour to avoid burning. Check by pricking with a tooth pick. The cake is done if it comes out clean.
Spoon the pudding cake into bowls and serve with dollops of whipped cream.
Categories: Almonds, American, Baking powder, Butterscotch chips, Chocolate chips, Cocoa powder, Dessert, Flour, Milk, Olive Oil, Sugar, Vanilla Essence, water