Pineapple Upside Down Cake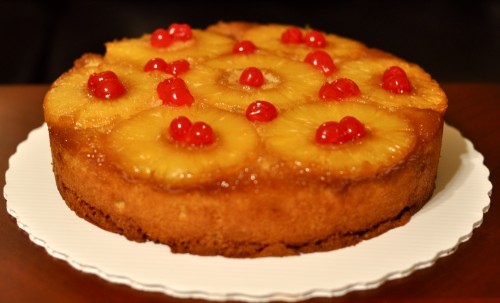 This scrumptious pick brings to mind the sunny Hawaiian afternoons on the beach where the dessert is worth waiting for- after all, you get to say aloha to the pineapple cake that churns your cravings from the stomach to taste buds. This lovely slow cooker version is so soft and juicy that all you need to do is close your eyes and enjoy the taste in every bite.
Servings: 4
Cooking time: 2-3 hours
Ingredients:
5 tablespoons unsalted butter
¾ cup fine sugar
2 tablespoons brown sugar
8-10 canned pineapple rings
1/4 cup pineapple juice from the can
8 cherries, unseeded (optional)
3/4 cup self-raising flour
3/4 teaspoon baking powder
1/2 teaspoon cinnamon
2 large eggs, at room temperature
1 teaspoon vanilla essence
2 tablespoons milk
Directions:
Grease the bottom of crock pot with butter. Spread double layer of foil and butter it.
Sprinkle brown sugar over the foil and organize the pineapple slices over it. Also place cherries in the middle of the slices if you like.
With an electric beater, whisk together butter, sugar, essence, nutmeg, milk, cinnamon and pineapple juice together well till combined.
Sift together flour and baking powder separately. Fold it in the egg mixture.
Pour the mixture over the pineapples in the slow cooker. Cover and cook on high for 2 to 3 hours till it is done.
Let it cool down and lift off the slow cooker with the help of foil. Remove the cake off the foil once it lowers to room temperature.
To serve: Slice out the cake with whipped cream on top or a scoop of vanilla ice cream by the side.
Categories: Baking powder, Birthday, Brown Sugar, cherries, Cinnamon, Dessert, Egg, Milk, pineapple juice, pineapple rings, self-raising flour, Sugar, unsalted butter, Vanilla Essence, Warm