Peas and Rice Pilaf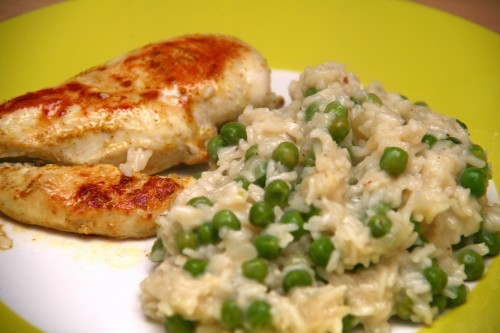 Pilaf refers to the dish where the rice is cooked in broth- we have used chicken broth in our recipe. Different versions of the dish are found in many cuisines including Turkish, South Asian and even the Jewish cuisines. This beautifully compliments the Thanksgiving dinner as a side dish. Pepper corns and cumin combine to give the pilaf a warming eastern fragrance that attracts all the diners toward it.
Cooking time: 4 hours
Servings: 4-6
Ingredients for Peas and Rice Pilaf:
1 cup uncooked brown rice
1 cup uncooked wild rice
2 tablespoons butter
3 cups chicken broth
3 cups water
1 cup diced onion
2 cups peas
3/4 teaspoon pepper corns
2 teaspoon salt
1 teaspoon garlic minced
1 teaspoon cumin seeds
1 teaspoon ginger, thinly sliced
Ingredients for Yogurt Garlic Dip:
1 cup Yogurt
Salt to taste
¼ teaspoon minced garlic
Directions:
Heat butter in the crock pot. Add salt, peppercorns, and garlic, ginger and cumin seeds and let them simmer.
Add in rice, broth and water. Also mix in peas and onions. Stir to combine the ingredients.
Cook the rice on high heat for 3 hours or until the rice and peas are tender.
Serve hot with yogurt garlic dip. For the dip, blend well the given ingredients (listed above) and serve with pilaf.
Tip: Take care not to overcook the rice, or they might get mushy and stick together into a blob.
Categories: Brown Rice, Butter, Chicken Broth, Cumin, Garlic, Ginger, Hot, Onion, Peas, pepper corns, Salt, Side Dish, Thanksgiving, water, wild rice, Yogurt