Party Wings in a Crockpot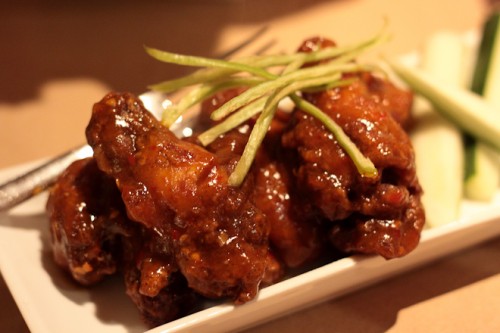 Combination of honey and lemon with this easy slow cooker chicken wings recipe adds amazing flavors to the chicken wings. If you planning a party or just want to add a yummy appetizer to your dinner than this recipe is a must try, tempting you in every bite! Making the chicken wings in the slow cooker will give you a different taste than to the wings you fry or bake in the oven.
If you want to add some crispy texture to the skin, you may treat your wings in a broiler for a while before treating it under slow cooking.
Servings: 4
Cooking time: 5 hours
Ingredients:
 3 pounds/ 16 pieces chicken wings
salt and pepper to taste
1 1/2 cups barbecue sauce
1/4 cup honey
2 teaspoons prepared mustard or spicy mustard
2 teaspoons Worcestershire sauce
4 table spoons lemon juice
 1 tablespoon dill seeds
1 teaspoon garlic powder
Directions:
Put all ingredients in a bowl.
Mix together all the seasonings.
Add chicken in to the bowl and cover well with the seasoning mixture.
Now place the chicken wings in your crockpot and cook for 4 to 5 hours.
Enjoy your delicious party wings with a variety of sauces that complement the wings well like BBQ sauce, Chilly Sauce, Mexican Sauce, Cheese Sauce. You may add fresh salad or fries for the best presentation.
Categories: American, Appetizer, Birthday, Black Pepper, Chicken, Christmas, Holiday, Honey, Hot, Lemon, Salt