Lettuce Wraps- Greenly Chinese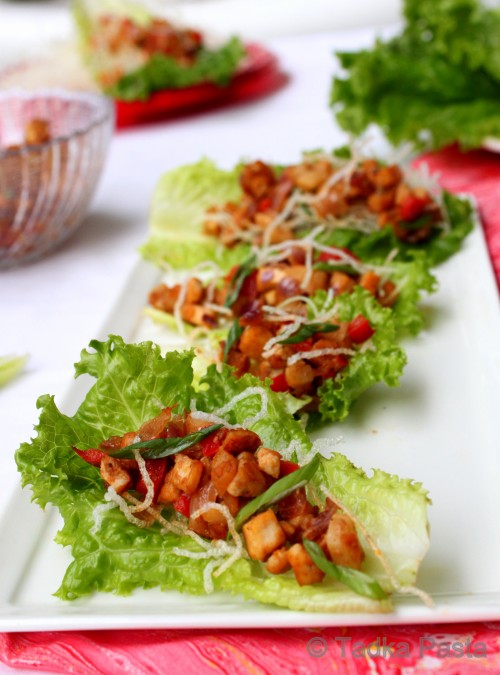 You will love these if you adore the greens and Chinese food. The delicious concoction of vegetables, rice, meat and nuts nestle amidst the lettuce. Seasoned with sauces as diverse as hoisin and siracha, the folks will never be able to  guess the intensity of fusion that the simple appetizer holds. All said these lettuce wraps is one simple dish to prepare in the slow cooker, with a turn out so moist and tender that your folks cannot help licking the last specks off the plates.
Servings: 5
Cooking time: 6 hours
Ingredients:
1 pound minced beef
1 red bell pepper, finely chopped
1 onion, finely chopped
3 garlic cloves, minced
1/2 cup hoisin sauce
2 Tablespoons soy sauce
1 teaspoon ground ginger
1/4 teaspoon salt
1/8 teaspoon freshly ground black pepper
4 oz. sliced water chestnuts, finely chopped
1 cup cooked brown rice
3 spring onions, chopped
1 iceberg lettuce rinsed and dry
Sriracha hot sauce, to drizzle in the end
Directions:
Cook the beef over high heat on the stove for 5 to 10 minutes. Let all the excess water evaporate.
Transfer the mince in the slow cooker. Add all other ingredients EXCEPT the spring onions, rice and chestnuts.
Cover and let cook for 6 hours till the beef mince is tender and cooked.
Add in the onions, rice and chestnuts. Stir with a spoon to combine.
Set the mixture over lettuce leaves. Drizzle siracha hot sauce over it. Omit the sauce if you like your food less spicy.
Categories: Appetizer, Beef, Bell Pepper, Black Pepper, Brown Rice, Chestnuts, Chinese, Garlic, Ginger, Hoisin sauce, Iceberg lettuce, Onion, Salt, Soy sauce, Spring onions, Sriracha hot sauce, Warm, With Garnishing