Honey Chicken Wings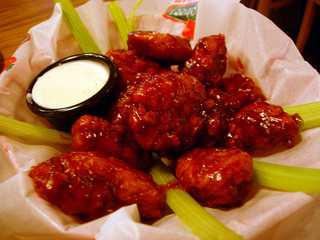 Coated in honey and ketchup, these saucy, sweet and sour wings are an ultimate treat for your taste buds. Easy to make and bursting with flavor, these wings make a great side dish for Christmas dinners or any other busy day when you need your crock pot's assistance to prepare a course and handle half the hassle for you.
Cooking time: 4-6 hours
Servings: 32 wings
Ingredients:
3 lb chicken wings
1 teaspoon salt
1 teaspoon leveled black pepper
¾ cup honey
¼ cup soy sauce
1 medium onion, very finely chopped
¼ cup ketchup
2 tablespoons olive oil
4 cloves garlic, minced
¼ teaspoon crushed red chili
Sesame seeds roasted
Directions:
In a bowl, combine the chicken with the seasonings and mix till the chicken is well-coated.
Place the chicken into the slow cooker with the onions. Cover and cook on low heat for 4 to 6 hours till the chicken is very tender.
If the sauce in the slow cooker is still thin and liquid, cook on stove over high heat till it thickens. Pour over the chicken.
It is recommended that you then place the chicken on a baking sheet and broil it in the oven for about 5 to 10 minutes so the sauce caramelizes well over the chicken.
To serve:
Serve hot! Honey chicken wings taste great with ketchup and tartar sauce. You may also fry onion rings to serve with the chicken.
Categories: Black Pepper, chicken wings, Christmas, Crushed red chilli, Garlic, Holiday, Honey, Hot, Ketchup, Olive Oil, Onion, Salt, sesame seeds, Side Dish, Soy sauce