Glazed Vegetable Salad- Shockingly Tasty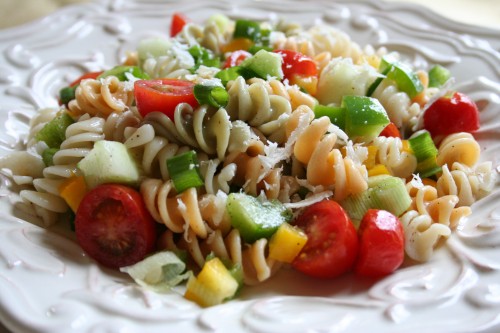 A perfect combination of health and taste is now possible through our glazed vegetable salad. We know how hard it can get for weight watchers to eat raw veggies all the time. This colorful salad is shortly cooked in the slow cooker to soften the vegetables and let their flavors fuse together to give a deliciously healthy variation. The sweet and sour blend of honey and balsamic vinegar makes it even better- you might set trend for cooking your salad all the time. Carrot, potatoes, peas and mushrooms add different colors to the bowl and give you a dish which is not just shockingly tasty but a treat to watch too.
Servings: 6
Cooking time: 2-3 hours
Ingredients:
1 cup baby carrots
1 cup green pepper
1 cups baby potatoes
1 cup onions
1 cup mushrooms
1 cup cherry tomatoes
1 cup peas
3 cloves chopped garlic
3 cups any short-cut pasta
5 tablespoons honey
1 teaspoon salt
1 teaspoon pepper
2 tablespoons balsamic vinegar
2 tablespoon olive oil
Directions:
Dice cucumber, green pepper, potatoes, carrots, onions and parsnips.
Cut the tomatoes into halves.
Boil pasta separately or put it in the slow cooker for an hour or high before combining it with the vegetables.
Toss all the vegetables together in a bowl along with all other ingredients. Put them in a slow cooker with the pasta and cook on low heat for two hours.
Serve at room temperature or slightly warm.
Categories: Appetizer, Black Pepper, Carrot, Garlic, Green Pepper, Honey, Mushrooms, Olive Oil, Onion, Pasta, Peas, Potato, Salt, Tomatoes, Vinegar, Warm