Creamy Split Pea Soup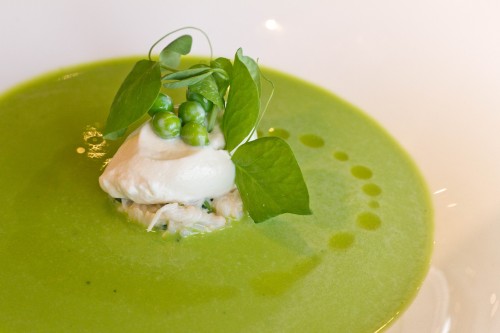 This is a creamy green soup recipe which is an ideal winter meal, and is best enjoyed with bite-sized croutons or baked corn bread. You may leave your soup grainy if you like the peas as you eat, or cook for longer for a smooth creamy texture. A dollop of fresh cream on top might add to your calorie count but makes the soup simply irresistible. A hot bowl of soup in cold nights is like a blessing and this green soup does not only looks yummy but tastes equally good.
Servings:8
Cooking time: 8-10 hours on low
Ingredients:
3 cup dried green split peas, rinsed
1 medium carrot, diced
2 medium celery stalks, diced
1/2 medium onion, diced
2 garlic cloves, minced
2 fresh parsley sprigs
1 bay leaf
250 grams beef
4 cups low-sodium chicken broth (1 quart)
2 cups water
Kosher salt
Freshly ground black pepper
Directions:
Prepare and cut the vegetables as per requirement
Place ingredients in slow cooker and pour in water and broth.
Do not stir.
Cover and cook on low heat for 8 to 10 hours until peas almost dissolve and beef is very tender.
Debone the beef and discard the bay leaf.
Now mash the  peas to thicken to get a smooth texture.
Serve with croutons or baked cornbread.
Categories: Bay leaf, Beef, Black Pepper, Carrot, Celery, Garlic, Hot, Onion, Parsley, Peas, Salt, Soup & Stew, Vegetables, water