Chicken Tikka Masala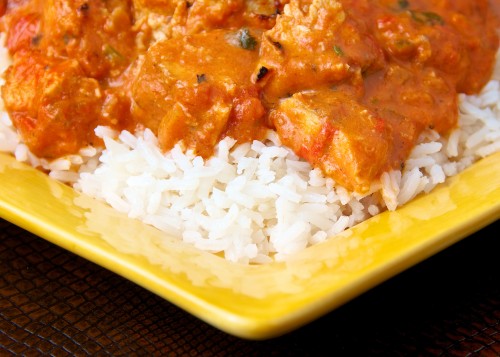 The bud exploding Indian classic, Chicken Tikka Masala recipe prepared in a slow cooker makes your holiday dinners easy and lavish. Mouthwatering as it is, your guests will never be able to guess that it's so effortless and easy especially with our simple recipe. You may substitute chicken with beef, increasing the cooking time accordingly. The dash of garam masala powder- a combination of Indian spices- does the trick in recipe and brings out the classic 'local' tikka flavor.
Servings: 8
Cooking time: 4 hours
Ingredients:
3 pounds chicken, cut into pieces
4 garlic cloves, minced
2 tablespoons ginger, finely grated
1 jalapeno, sliced in half and seeds removed
1 1/2 cups plain yogurt
2 tablespoons olive oil
2 tablespoons lemon juice
2 tablespoons garam masala
1 tablespoon cumin
1/2 tablespoon paprika
2 teaspoons salt (to taste)
3/4 teaspoon fresh ground black pepper
2 bay leaves
Directions:
Place the chicken in the bottom of a slow cooker.
Mix rest of the ingredients- yogurt, ginger, garlic, garam masala, paprika, lemon, cumin, oil and salt.
Pour over the chicken and onion and stir well to cover the chicken pieces.
Put bayleaf on it.
Cook on Low for 8 hours.
Squeeze some lemon juice after plating
Serve with onion wedges or Garlic rice along with the cucumber and mint yogurt on the side.
Categories: Bay leaf, Black Pepper, Chicken, Cumin, Garlic, Ginger, Holiday, Hot, Indian, Jalapeno, Lemon, Main Dish, Olive Oil, Paprika, Salt, Yogurt