Chicken Taco Soup- A Bowl Full Of Proteins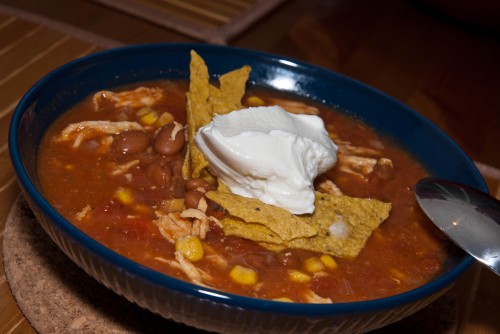 A soup rich in protein with beans, chicken, cheese, cream and corns with a simple recipe is non-other than the Chicken Taco Soup. A variety of flavorsome ingredients in the Chicken Taco Soup adds amazing aroma and taste to your bowl. The recipe is appropriate for diet-conscious eaters at the same time. Cooking over crock pot lets flavors seep around full and well, with a Mexican rupture of taste in every gulp.
Servings: 6
Cooking time: 7-9 hours
Ingredients:
1 cup kidney beans
1 cup black beans
1 cup whole kernel corn
1 (8 ounce) can tomato sauce
1 cup chicken broth
2 cups diced tomatoes
1 sachet taco seasoning
3 boneless skinless chicken breasts
shredded cheddar cheese
Sour cream
Salt and pepper to taste
1 onion, chopped
1 packet tortilla chips
Directions:
Place the onions, beans, tomato sauce, chicken broth, and diced tomatoes in a slow cooker
Add the seasonings.
Position the chicken on top
Now cover the lid and cook for 6 hours on low heat in the slow cooker.
Remove the chicken, shred and add back the slow cooker.
Stir, and let cook for another two hours.
Serve topped with tortilla chips, shredded cheese or sour cream.
Categories: Black beans, Black Pepper, Cheese, Chicken, Hot, Kidney beans, Mexican, Onion, Soup & Stew, Sour cream, Tomatoes, tortilla chips, Vegetables