Chicken Enchilada Soup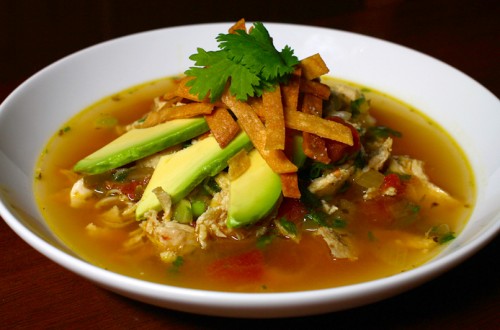 This will definitely sate your love for the Mexican food. Get cozy these winters with a simmering bowl of Chicken enchilada soup with flavorsome ingredients giving your bowl interesting colors and textures. Topped with a choice of your favorite garnish including in the option a spoon of sour cream, cheese and some tacos, treat your family with kingly fulfillment without much effort, thanks to the crock pot.
Servings: 6
Cooking time: 6-7 hours
Ingredients:
2 tablespoon olive oil
1 onion (large, finely chopped)
3 tbsps. minced garlic
1 pound chicken breast, skinless
8 cups chicken broth
2 red enchilada sauce
Salt and pepper to taste
4 tomatoes, chopped
1 cup kernel corn
1 packet cream of chicken soup
8 green chilies, chopped
2 tbsps. ground cumin
6 oz. sour cream
1 cup shredded cheddar cheese (garnishing)
1 bunch cilantro leaves (garnishing)
1 bag tortilla chips (garnishing)
Directions:
Place the chicken on the surface of the slow cooker and add in all the ingredients.
Cover and cook for 6 hours on low heat.
Remove the chicken from the slow cooker, shred and return to the pot, letting it cook for half an hour.
Serve, topped with sour cream, cheese, cilantro and tortilla chips on top.
Categories: Appetizer, Black Pepper, Cheese, Chicken, Christmas, cilantro Leaves, Corn, Course, Cumin, Enchilada Sauce, Garlic, Green Chillies, Holiday, Hot, Mexican, Olive Oil, Onion, Salt, Soup & Stew, Sour cream, Tomatoes, tortilla chips