Beef Chili Con Carne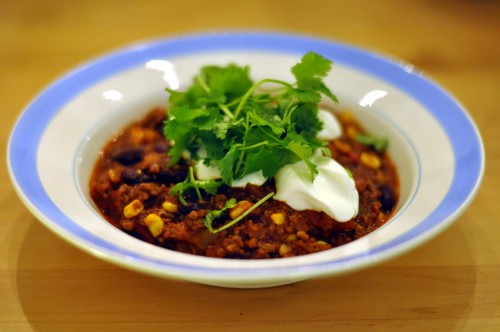 Chili Con Carne is Spanish for Chili with meat, and is commonly referred as Chili. An exciting stew with numerous variations, Chili is an ideal crock pot dish that can be easily left overnight in the slow cooker.
Cooking time: 7 hours
Servings: 6
Ingredients:
1 lb minced beef
2 medium onions, finely chopped
4 cloves garlic, chopped
6 tomatoes, finely chopped
2 cups tomato sauce/ketchup/paste
1 tablespoon chili powder
1 teaspoon roasted cumin
1 teaspoon salt leveled
A dash of black pepper
1/4 teaspoon cayenne pepper
2 cups red kidney beans or black beans
2 tablespoon cornstarch dissolved in 1/4 cup water
4-6 Jalapenos (optional)
Scallions for garnishing
Corn bread or tortillas to serve
Directions:
Heat the oil in a skillet. Add garlic and beef. Sauté for 7-9 minutes till the excess water from the beef dries out.
Transfer the beef to the slow cooker. Add beans along with other seasonings and tomato sauce. Mix well to combine the ingredients.
Cover the slow cooker and cook for around 7 hours till the broth thickens and the ingredients seem blended together.
Add tomatoes and onions and cook for another 15 minutes.
Taste, and if you like your chili spicier, add jalapenos.
Stir in the cornstarch if and cook over high heat for a minute before you turn the slow cooker off. Garnish with scallions, and dollop of sour cream.
To serve:
Serve with corn bread and tortilla chips.
Categories: Beef, Birthday, Black beans, Black Pepper, cayenne pepper, Chili powder, cornstarch, Cumin, Garlic, Holiday, Hot, Jalapeno, Ketchup, Kidney beans, Onion, Salt, scallions, Soup & Stew, Spanish, Tomatoes, tortilla chips, With Garnishing