Barbecued Pulled Lamb Sandwiches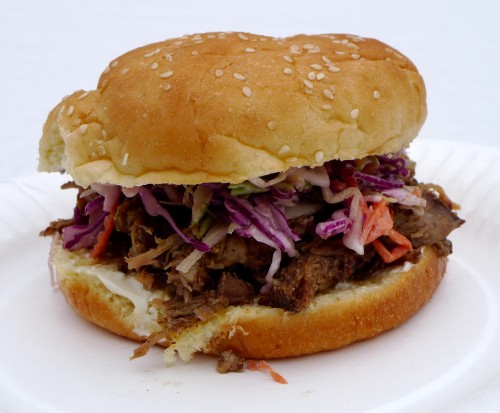 Here comes another flavorful and wholesome main course that is simple to cook and quickly and conveniently consumed. Add cheese slice and pickled cucumber in the sandwiches if you wish to add a richer kick to it.
Servings: 10
Cooking time: 8-10 hours
Ingredients:
¼ cup oil
2 onions, thinly sliced
4 garlic cloves, coarsely chopped
1 cup chicken stock
1 tablespoon brown sugar
1 tablespoon chili powder
1 tablespoon salt
½ cup tomato paste
4 tablespoons vinegar
1/2 teaspoon cumin, roasted and ground
½ tea spoon crushed black pepper
4 lb boneless lamb meat or leg
1 cup barbecue sauce
1 dozen Burger buns
¾ cup mayonnaise
1 cup chopped iceberg lettuce
Directions:
Mix salt, pepper, chili powder, garlic, stock, cumin, brown sugar, tomato paste, and vinegar in a bowl. Rub over lamb.
In the slow cooker, heat oil. Sauté onions and add meat.
Cover the cooker and let it cook on low heat for 8 to 10 hours, until the meat is tender and all liquid has dried up.
Remove from the cooker. Place over a cutting board and shred the meat into small pieces.
Place the meat back in the slow cooker and mix in barbecue sauce. Cook on high heat for 5 minutes.
Spread mayonnaise on the bun.
Place two spoons full of meat mixture over it. Put iceberg lettuce on it and finish off by lading the burger with the top slice.
Serve hot with ketchup and tartar sauce.
Categories: Barbecue sauce, Black Pepper, Brown Sugar, Burger buns, Chicken Broth, Chili powder, Cumin, Garlic, Holiday, Hot, Iceberg lettuce, Lamb, Main Dish, mayonnaise, Oil, Onion, Salt, tomato paste, Vinegar