Yummy Baked Potato Soup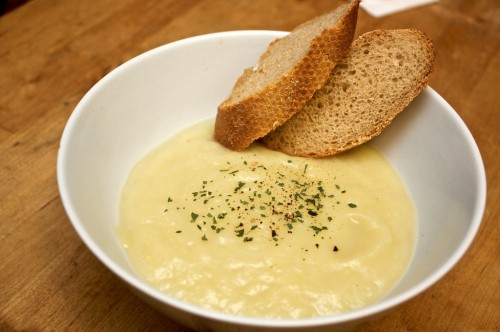 This creamy potato soup is a mouth-watering diversion from typical meaty recipes, and will leave you full and sated with its single serving. The smooth creamy texture gives a velvety feeling in your mouth. With the right consistency the creamy baked potato soup will surely give you a blend of flavorsome ingredients.
Serves: 6
Cooking time: 6-8 hours.
Ingredients:
10 potatoes, peeled and diced into cubes
1 small onion, diced in cubes
4 cloves chopped garlic
1 teaspoon seasoned salt
2 tbsp all-purpose flour
1/2 teaspoon black pepper
1/2 teaspoon red pepper
1 cup chicken broth
½ cup cheddar cheese shredded
½ cup spring onions chopped
1 cup water
½ cup milk
2 tbsp parsley
½ cup shredded beef
Directions:
Spread potatoes in the bottom of the slow cooker
Sprinkle flour over it and toss gently
Scatter shredded beef, onion, garlic, parsley, salt, red and black pepper over the potatoes
Pour milk, water and stock over it
Cook on Low heat for 7 hours
Use a potato masher or blend to turn it into smooth soup, or leave it chunky if you like.
Garnish with Cheddar cheese, shredded beef and green onion to serve.
Categories: American, Baking, Beef, Black Pepper, Cheese, Chicken, Flour, Holiday, Hot, Milk, Onion, Potato, Red Pepper, Salt, Soup & Stew, With Garnishing