Baked Mushroom in Pesto Sauce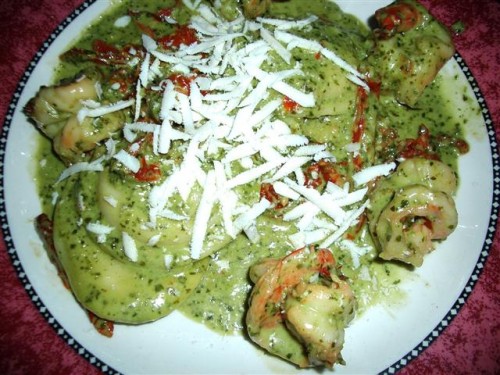 Amuse your guests with this exclusive starter. The flavors of basil and nuts in the pesto sauce transform the primitive mushrooms into nothing less than Italian glory. You can alternate mushrooms with spinach or egg plants, or even mix the three together for a more exciting treat that will make your guests wonder what comes next. Top off with cheese of your choice, although ricotta is my recommended favorite.
Servings: 6
Cooking time: 8 hours
Ingredients for Home Made Pesto Sauce:
4 tablespoons pine nuts
4 tablespoons walnuts
3 tablespoons chopped garlic
4 cups basil leaves, fresh
1 teaspoon kosher salt
1 teaspoon ground black pepper
1 cup olive oil
½ cup grated Parmesan cheese
Directions for Sauce:
Blend all the ingredients well
Store air tight in the freezer
Ingredients for Baked Mushroom:
3 tbsp olive oil
20 chestnut mushrooms
250 g ricotta cheese (you can choose any other)
3 tbsp green pesto
2 garlic cloves, finely chopped
25g freshly grated Parmesan (or vegetarian alternative)
1 rounded tbsp pesto and 2 tbsp chopped fresh parsley, preferably flat leaf, to serve
Directions for baked mushrooms:
Grease crock pot with oil.
Trim the mushrooms at stalk levels and layer into the crock-pot.
Spread the pesto sauce over the mushrooms.
Cook for 8 hours on low heat. Drain the excess water that mushrooms have exuded.
Evenly coat the top with ricotta, sprinkle parsley and cook on high till the cheese melts.
Serving style: Serve hot. Garnish with another dash of pesto sauce!
Categories: Appetizer, Basil, Black Pepper, Cheese, Garlic, green pesto, Hot, Italian, Mushrooms, Olive Oil, Parsley, pine nuts, Salt, walnuts, With Garnishing