Vegetable Lasagna – let the veggies do the trick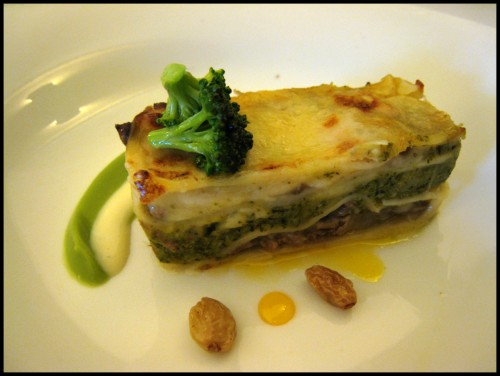 The vegetarian main course proves that you do not have to go meaty to prepare meal that is fit for a king. These creatively combined veggies wonderfully do the trick for you. scrumptious sauce, flavors of herbs, crunch of carrot and capsicum, mix of seasonal vegetables, hint of garlic and addition of mushrooms with a lot of cheese for the cheese lovers makes the vegetable Lasagna a must try!
Servings: 6
Cooking time: 4 hours
Ingredients:
1 box lasagna (uncooked)
1 15 oz container ricotta cheese
1 25 oz jar pasta sauce
½ cup diced capsicum
½ cup diced carrots
½ cup mushrooms
¾ cup chopped spinach
½ cup diced onions
½ cup cauliflower
2 cups mozzarella cheese, grated
1/2 cup parmesan cheese, grated
1 large egg
1 tablespoon dried italian herbs
1 teaspoon kosher salt
1/2 teaspoon garlic powder
Directions:
Combine ricotta, Parmesan cheese and the seasonings in a bowl and mix well.
Spread pasta sauce lavishly on the base of crock pot.
Place a layer of lasagna over it.
Follow with the ricotta mixture on to top.
Layer 1 cup of the chopped vegetables
Next layer one cup of mozzarella cheese.
Repeat with another following the same procedure
Finally, top with the remaining pasta sauce and grated cheese on top of the lasagna
Cook for 4 hours on low heat
Serve hot
Tip:  If you wish to save some lasagna for later use, you can cut it in to individual serving sizes and wrap the slices in an aluminum foil packing to refrigerate for next day without letting the lasgna go hard on edges. It can easily be reheated for a next day treat.