Chicken Noodle Soup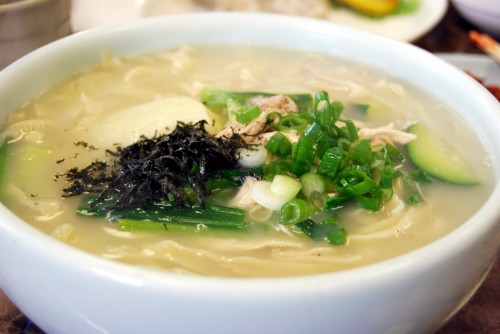 Here is a classic recipe for chicken noodle soup, with easy ingredients and aromatic herbs that is bound to give you an experience back in time. A mix of vegetables and noodles slowly cooked in chicken stock give you a flavored bowl of hot serving.  A simple recipe with healthy ingredient is great in taste and can be enjoyed by family, especially the kids who love noodles.
Servings: 6
Cooking time: 7-8 hours
Ingredients:
 8 cups chicken stock
 1 cup carrot, cut into cubes
 1 cup celery, sliced
 1 cup onion, chopped
 1 garlic clove, chopped
 2 bay leaves
 1/2 teaspoon dried thyme
 4 teaspoons salt (to taste)
 1/2 teaspoon black pepper, to taste
 ½ kg chicken coarsely minced
3 cups egg noodles, uncooked
Directions:
Put all ingredients except noodles in the slow cooker.
Cover and cook on low for 5 to 6 hours.
Then add noodles and cook for another hour till the noodles are done.
Serve and sprinkle parsley on top.