Saucy Pepper Steak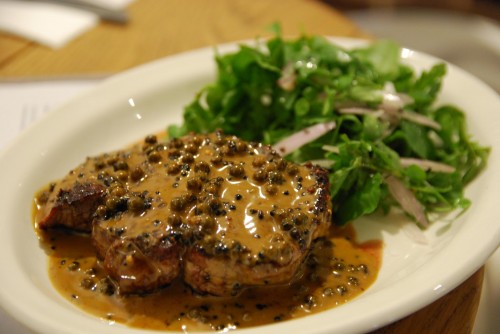 Every bite of this saucy pepper steak is filled with sweet and spicy flavors all at the same time. You can alternate chicken for beef if you want to keep the load light on the intestines. It compliments well with rice, noodles, Garlic bread or simply bread loaf.
Servings: 5
Cooking time: 6 hours
Ingredients:
 2 pounds beef steak, cut into strips
 2 tablespoons oil
 6 tablespoons soy sauce
 2 tablespoons Worcestershire sauce
 1 large onion, thinly sliced
 1 garlic clove, minced
 1 teaspoon oregano
1 teaspoon sugar
1/2 teaspoon salt
1/4 teaspoon pepper
1/2 teaspoon ginger paste
 6 tomatoes, chopped
 2 capsicums
1/2 cup cold Water
1 tablespoon cornstarch
Directions:
Place beef strips in the slow cooker.
Combine oil and all the seasonings, add to the beef.
Cover and cook on low heat for 5 to 6 hours.
Add tomatoes and capsicum.
Cover and cook on low heat for another hour.
Dissolve cornstarch and water into a paste;
Stir into slow cooker and cook over high heat till steak's sauce is done.
Serve hot and enjoy with your friends and family the classy flavors of the tender beef steak cooked in a slow cooker with  glazed sauce and served with your favorite side line.
Categories: American, Beef, Holiday, Hot, Main Dish, Onion, Salt