Quickest Ever Chocolate Fondue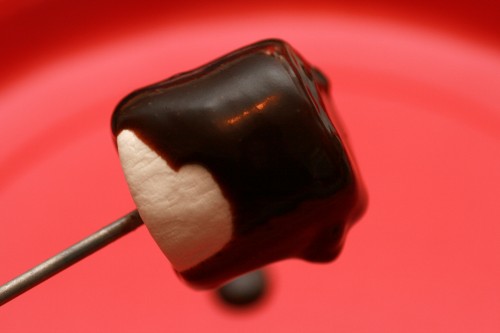 This has to be the simplest dessert ever, and guess what? Its fun, even the kids can help you out. Perfect for the day-offs and kids' parties, this dessert never fails to win guests over.
Cooking time: 1 hour
Servings: 10-12
Ingredients:
1 1/2 semisweet chocolate, cut into pieces
1/2 bittersweet chocolate, cut into pieces
1 cup heavy cream
1/2 cup milk
1 teaspoon vanilla extract
Pinch kosher salt
2 tablespoons orange juice
To dip: fresh fruit, marshmallows, waffles, pound cake cubes, pretzels or any other
Directions:
Combine the chocolates, cream, vanilla essence, and pinch of salt, milk, and orange juice in the slow cooker. Stir well to combine.
Cover the slow cooker on cook on low heat for an hour. Stir after every ten minutes to merge the ingredients well and not to let chocolate stick on the sides.
As the chocolate fondue turns smooth, reduce heat to "warm". You may store it on warm for several hours before you serve.
Prick the dippers on the skewers and serve with warm chocolate fondue.
To serve:
Chocolate fondue may be served centrally in a single large bowl, but the individual servings are also attractive. Pour the fondue dips into small bowls and serve with dippers by the side.
It deliciously compliments strawberries, pound cake cubes, waffle sticks and marshmallows. Skewer these individually or prepare each skewer with a piece of every dipper. You can go on being creative by trying these with peaches, apples, tortillas or any other.
Categories: Birthday, bittersweet chocolate, Christmas, Dessert, heavy cream, Milk, orange juice, Salt, semisweet chocolate, Vanilla Essence, Warm