Pot Roast – A Royal Treat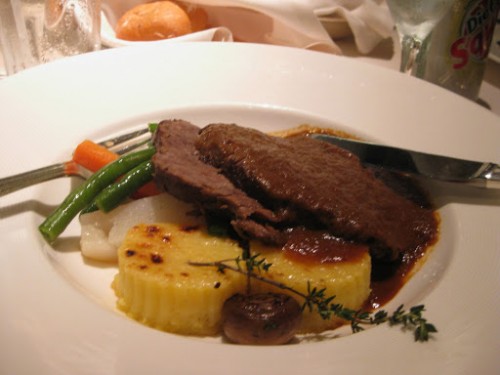 This scrumptious meal is a great idea for main course when you wish to give your family a royal treatment without working hard.This recipe might make pot roast a more frequent selection for your dinners rather than thanks giving only. Enjoy with bread loaf or simply on its own, this splendor will never fail to impress its devours.  
Serving: 6
Cooking time: 8-10 hours
Ingredients:
8 baby carrots cut into halves
5 baby potatoes cut in halves
2 medium onions, each cut into 8 wedges
Freshly ground pepper and salt to taste
1 beef chuck roast (3 pounds), remove fat
2 tablespoons Worcestershire sauce
1 packet vegetable soup mix
Directions:
In a slow cooker, combine soup mix
Now add 2 tablespoons of cold water
Stir till smooth
After the soup mix is smoothly mixed, place the roast in the cooker
Put the vegetables on top of the beef chunks
Sprinkle over the seasonings
Add Worcestershire sauce on top
Cover the lid
Cook on low for 10 hours.
When tender, cut into slices. Set vegetables on a side and roast slices in the center of a serving dish and drizzle pan juices over it and enjoy your meaty treat of the day.
Categories: Beef, Christmas, Hot, Main Dish, Salt, Vegetables