Irish Trifle- Traditionally Festive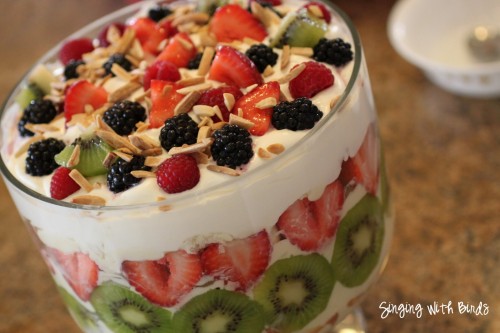 Conclude the Patrick's Day feast with this comforting chilled dessert, which is a reminder of the 19th century homemade trifle of ol' folks of Ireland.
Cooking time: ½ hour (Refrigerate for at least two hours)
Servings: 6-8
Ingredients:
16 ounce pound cake, diced into 1 inch cubes
2 teaspoon vanilla essence
1 can fruit cocktail
3 Tbsp. butter
1/2 cup sugar
3 Tbsp. cornstarch
4 egg yolks
3 cups whole milk
To finish:
2 cups whipped cream
2 tablespoons sugar
Rainbow sour strip candies, for garnish, optional
Directions:
To prepare the custard, vanilla, beat milk, egg yolks, water and sugar well. Cook in the slow cooker over high heat for half an hour till the custard thickens. Leave it uncovered to chill.
In a large flat glass platter, layer the cake cubes.
Pour the syrup over the cake to moisturize it and ladle the fruit cocktail pieces.
Pour custard on top of the cocktail fruit once it has cooled down.
Whip together sugar and cream till it turns double in volume and soft peaks begin to form on top. After that dollop the cream smoothly over the custard.
Chill the trifle and top with colorful strip candies.
Variations:
You may top with green cubed jello instead of candies in the end. Combination of fresh fruits also gives a fresher and more traditional taste to the trifle.
To serve:
Individual servings in glass bowls is another tempting way to serve this delicious trifle.
Categories: Butter, Candies, Cold, cornstarch, Dessert, Egg, fruit cocktail, Holiday, Irish, pound cake, Saint Patrick's Day, Sugar, Vanilla Essence, whipped cream, whole milk, With Garnishing